Employment support
What is Winning with Work?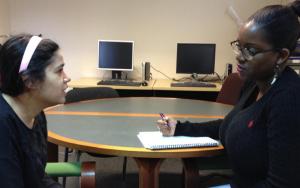 Share's employment specialist runs our Winning with Work programme by working with individuals with long-term mental health needs to help them acquire jobs and stay employed.
Using an individual placement and support approach, our employment specialist provides a tailored service that aims to understand and appreciate each individual's particular circumstances in order to inspire and help them to secure employment.
Share works closely with Wandsworth Council, the South West London and St George's Mental Health Trust, Family Action, Together Your Way and the Centre for Mental Health to secure work experience and employment opportunities for clients.
How Winning with Work helps individuals
Many of the individuals who take part in the Winning with Work programme suffer from serious mental health problems and do not believe that they have anything to offer employers. However, after someone takes the time to understand them and their situation, the beneficiaries of the programme are able to think about and look for appropriate work that suits their interests and needs. Last year, four people secured paid work, including one at Fulham Football Club and one as a self-employed gardener.
To find out more, contact our Employment Adviser, Hannah Christian via email hannahc@sharecommunity.org.uk or telephone 020 7801 9823 or mobile 0744 536 5365.