Back to work - Laura's journey to success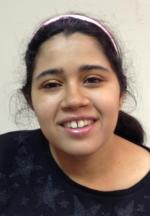 Laura first came to Share in June 2009 to study Basic and Life Skills, and Information Communications Technology (ICT). Laura was living with a mental health condition and a language impairment, and used her time at Share to gain new skills and qualifications during her recovery.
By February 2013, Laura felt that she was ready to return to work and decided to sign up to Share's employment services programme Winning with Work. So Laura met with Share's Employment Specialist to discuss her skill sets, experience and job goals, and together they also discussed how Laura would like to be supported in her job search.
Laura had previously worked in a number of retail and childcare positions, including working as a Breakfast Club Assistant and a Playworker at local primary schools, and was keen to go back to looking after children in some capacity.
Our Employment Specialist reviewed Laura's CV and helped her to update it. They also worked together to write a strong cover letter that could be used as the basis for future applications – and the job search then began in earnest.
The Employment Specialist supported Laura with job applications, helping her to modify her covering letters for specific jobs and fill out application forms, showing her how to use the internet to carry out job searches and also contacting potential employers on her behalf to arrange interviews. As Laura's confidence grew, she was encouraged to contact employers herself, and visibly beamed when she realised she could do so independently. Laura also received travel support when attending interviews but, again, with increasing confidence, she was eventually able and happy to travel independently.
Laura received help with interview preparation, which included practice 'mock' interviews, something which Laura says really helped her to improve her interview technique over time.
During the job search process, Laura met with Share's Employment Specialist once a week, and also kept in touch via the phone in between appointments.
As a trusted member of Share Community, Laura was able to visit Share regularly to use Share's IT suite to help her carry out her job search. She was also involved in the recruitment process for Share's Employment Specialist at the end of last year, where her opinions were taken into consideration before the final candidate was chosen.
After several interviews, Laura was finally offered her dream job working as a part-time Nursery Assistant in a local nursery, where she looks after babies and small children to ensure they are safe and happy.
Share's employment specialist, Laura and her new employer continue to maintain contact to ensure that everyone is happy with the placement.
Commenting on Share's employment service, Laura said the process had given her confidence and independence, and she found the employment specialists she worked with very supportive and patient.
So what's Laura's advice to others in her position? "Don't give up on your dream – just keep trying and don't give up."