Horticulture training for deaf people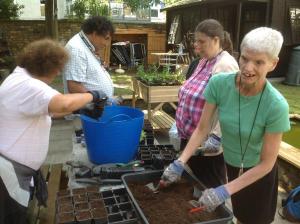 Share has started work on its year-long project with Viridian Housing to provide horticulture training for deaf people who have additional learning needs.
Share's horticulture manager, Jenny Shand, is working with a group of residents at Viridian Housing's Harding House to design and create their own garden.
This project gives participants a chance to learn new horticultural skills and knowledge, including garden planning and planting, ornamental plant and vegetable growing, hard landscaping and garden maintenance. Residents are encouraged to generate ideas for the new garden to create an accessible outdoor space for everyone to enjoy.
The project takes place on Wednesday afternoons and Saturday mornings throughout the year, so students can experience working in all seasons.
As part of the project, residents will also be visiting some of the area's most beautiful gardens, such as Kew Gardens and Polesden Lacey, to get inspiration for their own garden.
The aim of this project is to help participants to gain more independent living skills, encourage healthier eating and take advantage of horticulture's social and therapeutic benefits. Participants also have the opportunity to move on to further training programmes leading to nationally accredited qualifications and/or work in the horticulture field.