Evaluating health inequalities for disabled people
Published: 18/01/2017 - 10:45
As part of Share's Healthy Living Project, we have been working with Healthwatch Wandsworth to evaluate some of the health inequalities that disabled people may face.
During a group workshop, we asked Share students to express their views and discuss their experiences of using health services to establish what works really well for them and the things they find challenging. Here are just a few of the comments we received...
'What works well for me'
The eye test was easy and comfortable. People understood what was going on. Opticians treated people well
Doctors at the hospital treated people well
Receptionists at the GP were nice, and so were the doctors. People got longer appointment times
When there's a friendly receptionist it makes you feel good
When staff explain things to you
It's great having local services such as local opticians, doctors and pharmacies as we don't have to travel too far
When you walk into an appointment and they shake your hand, ask how you are and smile it makes you feel good
I trust the doctor and they don't rush me
'What I find challenging'
Access can be a problem for a wheelchair user, such as a lack of automatic doors and ramps
I receive appointment reminders by letter and text but I can't read
I am reliant on my father to deal with healthcare matters as I find it difficult to communicate through speech
I get panicky and stressed at appointments if I'm waiting for too long and don't know what's happening around me
It's difficult to retain information your doctor said from the GP appointment
I tried to find the hospital but I got lost
People who live independently or go to the GP alone can find it difficult to communicate their specific needs or understand what the doctor is saying
Sometimes I have to sit in the waiting room a long time but I don't always know how long I'm going to have to wait
Getting to an appointment
Difficult understanding equipment
This work is the subject of a video Share has produced about achieving better healthcare for those with learning disabilities.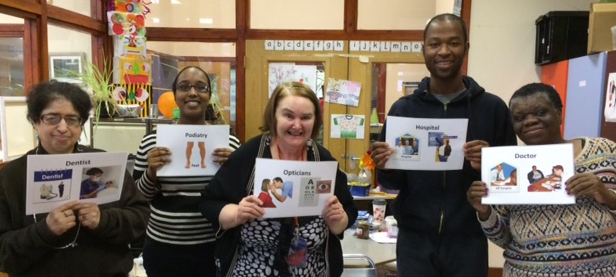 Back to News