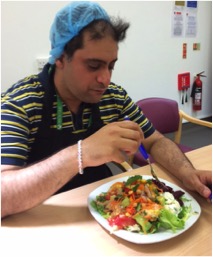 Share's Independent Living Skills programme teaches students the fundamentals of how to live independently. For example, students are taught how to look after themselves, the importance of personal hygiene, and how to use public transport, prepare simple food and drinks, and handle money.
This course combines life skills and wellbeing to encourage personal development and social integration within the community. In addition, we've built in work-readiness streams into the programme and we work with parents and carers, and our students' wider support networks to reinforce the skills learned at Share.
Our Independent Living Skills programme comprises four key modules:
Communication. How to tell others what you want or how you are feeling (eg, making choices, self-advocacy)
Everyday living skills. Using cooking and other domestic appliances, household shopping, basic cooking techniques, preparing a simple meal, recycling and waste management
Health and wellbeing. Personal health and presentation, eating a balanced diet, choosing clothing and footwear, accessing help for specialist services, accessing health services, developing and pursuing hobbies
Social responsibility. Law and order, understanding rights and responsibilities, drug and alcohol awareness, personal safety, living in a diverse community, getting about safely, developing assertiveness, personal awareness 
This course is an accredited course with students working towards OCNLR Entry Level Awards in Independent Living.