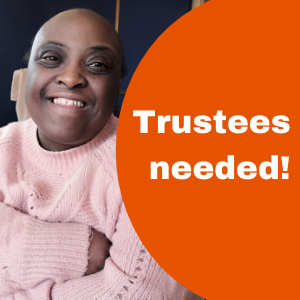 Trustees are a vital part of our organisation, helping to support our work and shape our strategic direction. We need volunteers to join our trustee board and help create brighter futures for people with learning disabilities and/or autism.
Being a trustee can be incredibly rewarding. Not only could you make a real difference to a cause that matters to you, it's a great way to get involved in a community and boost your professional development.
We welcome applications from people with a wide range of skills, experience, and perspectives but we're particularly interested in those with expertise in finance, learning disability services, mental health services, fundraising, technology, and charity or employment law.
As part of our recruitment process we're running virtual sessions when you can hear from our CEO, Chair of Trustees and other senior management staff and chat with them about what the role entails.
Contact Valentino, valentinof@sharecommunity.org.uk or call 0207 801 9829 for details.
More here
---
Celebrating 600 sessions with Disability Sports Coach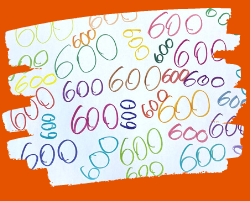 This month marked our 600th activity session with Disability Sports Coach! They deliver a range of sports and physical activity sessions, usually in person, but during the pandemic classes have run very successfully over Zoom. It's a fun way to build activity into the day and classes are popular with our students.
Ella said, 'I like doing workouts on Zoom, it keeps me busy.'
And Nigel reflected, 'It's nice to get involved in activities. We get to do different kinds of things. We get to listen to music we want.'
---
Community police run public safety session at Share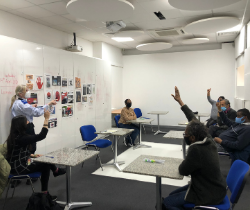 We all want to feel safe and secure and it's important for people with learning disabilities to learn about personal safety and feel more confident when out and about in the community.
This month we were visited (in person!) by Police Community Support Officers who talked about things we can do to stay safe in public.
It's reassuring for our students to speak to local police officers, ask questions and get valuable practical advice.
---
Share Nurseries open for plant sales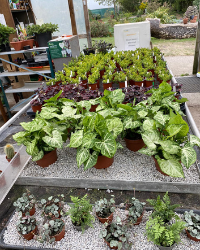 With two bank holidays to look forward to in May it's the perfect time to get out in the garden and start planting.
Share Nurseries is open weekdays from 10am to 3pm with a variety of plants for sale. We've got sage, mint, fennel, strawberries, flowering plants, and shrubs amongst others, all at incredibly reasonable prices.
Why not take a trip down there to see what's on offer and enjoy the beautiful garden in all its Spring glory? We only ask that visitors keep to social distancing rules. We'd love to see you there!
---
Catering facilities upgraded at Share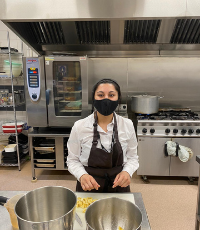 Staff and students in our catering programme have been enjoying upgraded kitchen facilities thanks to funding from the Wolfson Foundation and The Clothworkers' Foundation.
The space has been redesigned to create a more organised, user-friendly space with a new ventilation system, sleek shelving and a walk in fridge.
Our students can now get on with daily tasks in a fantastic environment using top notch facilities allowing them to perform at their best.
Kenny our chef tutor said, 'It's wonderful, ten times better, it makes the space feel just like a top professional kitchen.'
---
Call for volunteer befrienders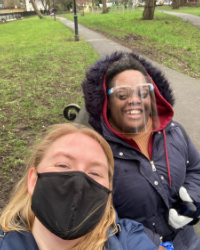 We're looking for volunteers who can spare a couple of hours a week to provide support and friendship to adults with learning disabilities. This could make a huge difference to someone's life, giving regular contact with a friendly face outside their immediate support bubble and helping them feel less lonely.
Volunteer befrienders are carefully matched with members of the scheme who have shared interests and they go out together for walks, bike rides, a trip to the shops, or maybe grab a coffee or tea. It's an incredibly rewarding project giving people a genuine chance to make a difference to those at risk of social isolation.
Fancy getting involved? Email perim@sharecommunity.org.uk or call 020 7801 9814.
---
Support Share when you shop at the Co-op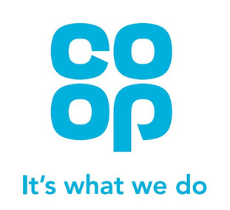 We're thankful to everyone who has supported us by shopping at the Co-op and choosing Share as their local cause. It's helping us deliver activities in the community, on-site, and remotely, getting people physically active and boosting mental health.
You can still get involved by becoming a Co-op member, and every time you shop at the Co-op not only will you help Share, you'll earn rewards for yourself.
---
Current vacancies at Share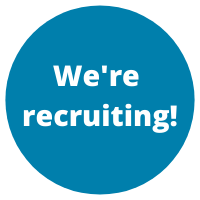 Lead horticulture trainer

Permanent, full time
Last chance to apply! Based at the Share garden at Springfield Hospital in Tooting, we need someone passionate about helping disabled adults reach their potential, and qualified to teach and assess to Level 2 in Horticulture.
---
Parent and carer forum

Next meeting: 6th May at 4pm
We'll be joined by representatives from Wandsworth Council who will run a Q&A with a focus on the changing situation with social care reviews. It doesn't matter if you're based in a different borough, it'll still be useful as all local authorities work in a similar way, following the guidance of the Care Act.
The meeting is also a great opportunity for people to share stories, provide feedback and raise any issues or concerns.
For more details please contact Elise, elises@sharecommunity.org.uk or call 020 7924 2949.
---

You are receiving this email because you have had previous contact with Share Community, a registered charity based in SW London that provides training and support for disabled adults. To find out more about our services visit www.sharecommunity.org.uk.