It's not everyday you get the chance to entertain guests at the House of Lords, so we were delighted, honoured and humbled by the opportunity presented to us by one of our Patrons, Lord Alf Dubs.
The event was a chance to highlight how Share is using technology to revolutionise how our students live, learn and communicate. This work, which integrates many streams of Share's work, including independent living skills and healthy living, was showcased in a film called Edmond's Potato, which we were able to premiere during the evening.
---
Share Annual Awards 2016
On 7th November 2016, Share celebrated our students' successes and achievements for 2016 at our Annual Awards Ceremony at the Civic Suite in Wandsworth.

Once again, kindly sponsored and supported by Sterling Media and the Khalsa Centre in Tooting, and hosted by the Mayor of Wandsworth, Cllr Richard Field, this event gives us an opportunity to show off the best of Share.
---
Great Brownie Bake Off for the Learning Disability Today Exhibition and Conference 2016!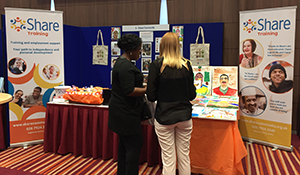 Share exhibited at the Learning Disability Today Exhibition and Conference on 29th November 2016.
It was great to see so many new and familiar faces at the event, which also gave us a wonderful opportunity to showcase our healthy living project in our very own 'Great Brownie Bake Off'.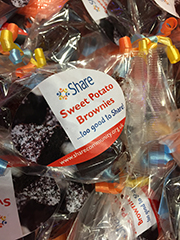 Visitors to the Share stand were able to pick up a bag of Sweet Potato Brownies (too good to Share!), specially prepared and packaged for the event by Share students. A healthy irresistable treat made with two of your 'five a day', no sugar, and gluten-free too!
Going by the comments we had back at the event, we think the Share Brownies went down a storm!
---
Parents/carers' meetings for 2017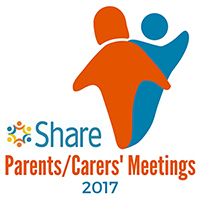 The dates for next year's parents/carers' meetings have now been set. They will take place from 11am to 12.30pm at Share HQ on the following dates:
Wednesday 25th January 2017
Wednesday 22nd March 2017
Wednesday 24th May 2017
Wednesday 26th July 2017
Wednesday 27th September 2017
Wednesday 22nd November 2017
This is a chance for parents and carers to meet and share their challenges and solutions, and tell us how we can help to improve our services for the person they care for.
If you are a parent or carer of a student at Share and would like to join us for any of these sessions, book your place now by telephoning 020 7801 9817 or emailing anniem@sharecommunity.org.uk.
---
Autism accreditation update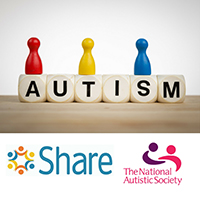 Last month, the Share Garden was subject to one of its regular reviews by our adviser at the National Autistic Society (NAS), as part of our continuing journey to becoming an autism-accredited organisation.
We were delighted to receive a glowing report on how we are using and organising the space in our garden for our autistic students.
---
Share Impact Report 2015/16 out now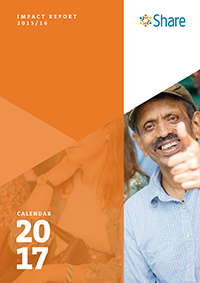 Find out all about what we've been up to in 2015/16 in Share's Impact Report for 2015/16.
As well as highlighting our work, the report showcases our students' artwork in a calendar for 2017. The theme for this year's calendar is 'Do you think you're beautiful?' and uses colour to explore self-expression.
To get your copy of Share's Impact Report and Calendar for 2017, email info@sharecommunity.org.uk or telephone 020 7924 2949.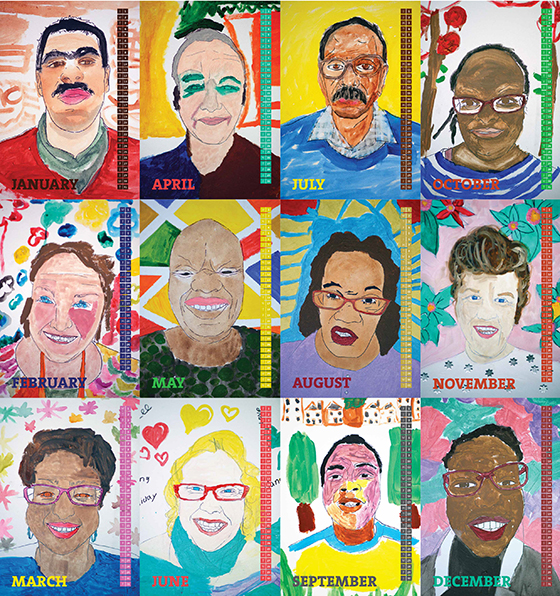 ---
Season's Greetings!
As we sign off on this final newsletter of 2016, all that is left for us to do is to wish everybody all the very best for the festive period and the New Year. Happy Holidays! See you next year.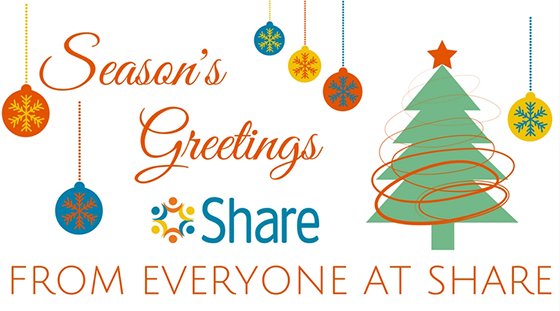 ---
About Share