Welcome to our new look Share News for 2016.
You are receiving this email because you have had previous contact with Share Community, a registered charity based in Battersea that provides training and employment support for disabled adults.
We start 2016 with the implementation of a new customer relationship database, which integrates with our website and which will help us to manage our contacts better so that we can provide relevant information for all our supporters and partners.
We very much hope you enjoy Share News, our regular update on what is happening at Share, so please remember to add the sharecommunity.org.uk domain to your safe senders list. You can of course update your preferences/unsubscribe below at any time.
Share's new immersive learning space – a special interactive room that uses wraparound video and sound to enhance learning – was installed at the end of 2015 and came into full operation this month.
---
Share launches Outcomes Star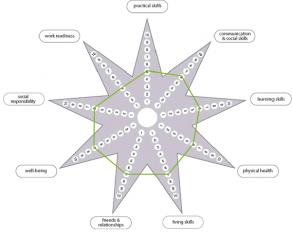 Share is implementing the Outcomes Star, an evidence-based tool to measure students' progress over time, for every student within the organisation.
The Star will help to build a complete picture of each student's time at Share by recording their successes and achievements, their challenges and their aspirations.
---
Share Open Day
Plus: Launch of Share's Immersive Learning Space
Tuesday 15th March 2016, 10:15am to 2:30pm, with lunch
Join us for Share's Open Day on Tuesday 15th March 2016 for the official launch of our immersive learning space and to find out more about Share's services.
The day also provides an opportunity to meet our teaching and wellbeing staff, as well as current students.

---
New Healthy Living Worker at Share
Share is delighted to welcome Mahalia Smith as our Healthy Living Worker to coordinate healthy living programmes within Share and to provide caseworker support for our students. Mahalia will be joining Share's health and wellbeing team, and working closely with Keesha Sinclair, our Wellbeing Coordinator, and Mikayla Mighton, our My Life Worker.
---
Impact report 2014/15 and Calendar 2016 out now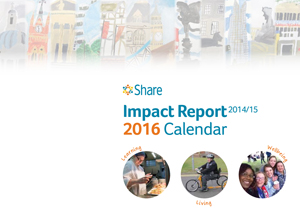 Share's impact report for 2014/15
, which highlights Share's work over 2014/15 and incorporates a calendar for 2016, is now available.
The report also includes watercolours of the sites of London, painted by Share's student, Rehan.
To get your free copy of Share's 2016 Calendar, email marcomms@sharecommunity.org.uk
---
About Share
Share provides training and employment support for disabled adults, including those with learning disabilities, physical/sensory impairments, autism and mental health needs.
Our core services include:
Find out more about other ways to get involved with Share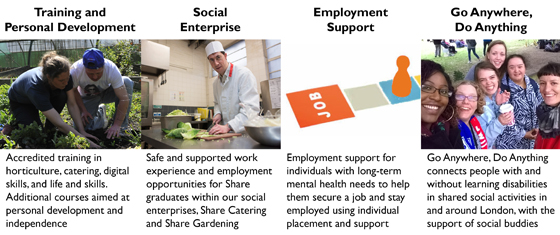 ---
Diary dates for 2016
15 March 2016 Share Open Day and Launch of Immersive Learning Space
18/19 June 2016 Open Garden Squares Weekend
21 June 2016 Share Student Summer Garden Party
23 June 2016 Share Evening in the Garden
8 November 2016 Share Annual Awards
15 December 2016 Share Winter Celebration
More information about all our events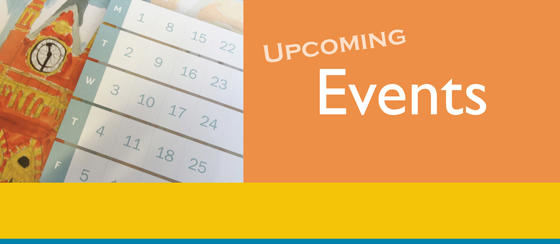 ---