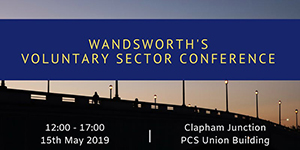 Share has been working alongside other voluntary organisations in Wandsworth over the past few months to campaign for better support of the voluntary and community sector in the borough.
We're therefore very excited to announce the date for a conference to be held on 15th May 2019 which will, for the first time in recent memory, bring together voluntary groups to talk about getting stronger together.
Sessions will include workshops and talks about fundraising, getting and keeping volunteers, building great management committees and boards, and much more. Find out more on Share's website at http://bit.ly/2HtAUqP.
If you are a local voluntary or community organisation and would like to build closer links with others in the borough of Wandsworth, join us on 15th May 2019 at the PCS Union Building, 160 Falcon Rd, London SW11 2LN, in Clapham Junction from 12 noon to 5pm.
The event is free to attend but numbers are limited so register now via Eventbrite.
---
Social services reviews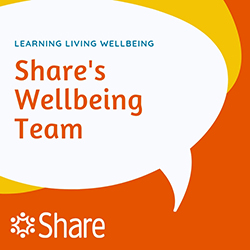 We've been concerned about the number of social services reviews that have been held without providers like Share being invited.
We're talking with social services in Wandsworth about it, but in the meantime, if you or the person you care for is in this position, do make sure you have all the right people at your review.
It's important that you have the people who know you best and can talk about your achievements and the goals you're still working towards at your review. And remember that Share's Wellbeing Team is here to help.
For more information or to discuss any concerns you may have about an upcoming social services review, contact Share's Wellbeing and Outreach Manager, Karen Miles, via email karenm@sharecommunity.org.uk or telephone 07445 365 365.
Contact Share's Wellbeing team
---
Share's work in moving images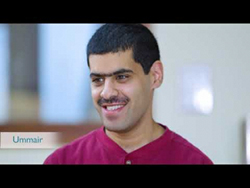 Watch our students tell you about life at Share in their own words in our latest video showcasing Share's work – moving, funny and uplifting all in one. We love it and hope you will too!!! So very proud of our shining stars.
Huge thanks also to our Patron and long-time supporter, actress Geraldine James, who helped to make this video.
To find out more about Share's work, how you can get involved with Share's work or donate, visit Share's website at www.sharecommunity.org.uk, or contact Annie McDowall, Share's CEO, via email shareceo@sharecommunity.org.uk
---
Funding successes for Share
Share is delighted to have received two key grants over the past few months.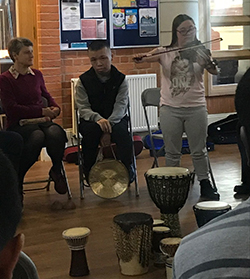 The first – awarded by the Arts Council England National Lottery – is to develop our music project Rhythms and Tunes to help our students develop crucial life skills through music.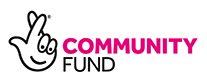 The second – granted by National Lottery Awards for All – will help us to develop an integrated student database to better manage each student's journey and progress through Share.
Find out more about Share's work
---
Waitrose Community Matters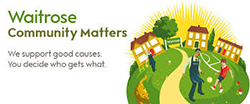 Share has been chosen by Waitrose Battersea Nine Elms as one of their local charities for support during March through their Community Matters scheme.
So if you are in the area and shopping at Waitrose Battersea Nine Elms, be sure to pick up some green tokens at the checkouts and pop them in Share's box as you leave the store.
The more tokens we get, the more Waitrose donates to Share.
Thank you for your support.Support Share with Waitrose Community Matters
---
Meet Share student Daniel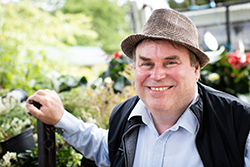 Daniel who studies horticulture and digital skills at Share has been working towards his goal to get fitter and healthier with the help of Share's Healthy Living Coordinator.
Over the past few months, he's been attending regular exercise classes and has joined a local stop smoking service – last time we checked, Daniel told us he was on day 66 without a single cigarette.
---
Parents/carers' March meeting 2019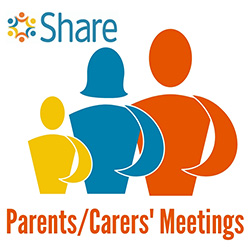 Share's March parents/carers' meeting will take place on Wednesday 20th March 2019 from 4.30pm to 6pm.
Vibrance, a charity that supports disabled people, will be at the meeting to discuss personal budgets and direct payments, and how they can help you to set up and manage your funding.
Mikayla Fergus-Quartey, Share's My Life Manager, will also be speaking about Share's Student Star and how we are supporting our students to continue their learning and progress at home.
To book your place, contact Karen Miles, Share's Wellbeing and Outreach Manager, via email karenm@sharecommunity.org.uk or telephone 07445 365 365.
---
Share Student Summer Garden Party 2019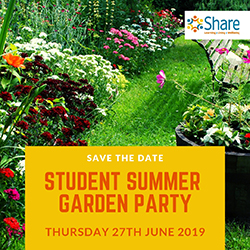 This year's Student Summer Garden Party will take place on Thursday 27th June 2019 in the beautiful Share Garden within the grounds of Springfield University Hospital in Tooting.
A fun day for all our students, their families, carers and friends, as well as our supporters and sponsors.
Everyone is welcome. So save the date and watch this space for more information.
To register for the event, visit Share's website.
---
Current vacancies at Share
We have a number of job vacancies at Share:
To find out more, visit our website or contact Leanne Wood, Share's People and Projects Manager, via email leannew@sharecommunity.org.uk or telephone 020 7801 9825 for more details.
Current opportunities at Share
---
About Share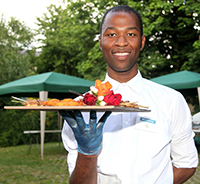 Share provides training and employment support for disabled adults, including those with learning disabilities, physical/sensory impairments, autism and mental health needs.
Our core services include: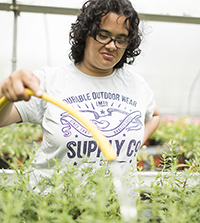 For further information, visit Share's website, email info@sharecommunity.org.ukor telephone 020 7924 2949.
If you would like to find out more about enrolling at Share or would like to arrange a visit, fill in our online enquiry form, email info@sharecommunity.org.ukor telephone 020 7924 2949.
Find out more about other ways to get involved with Share
---
Diary dates for 2019
Thursday 27th June 2019. Share Student Garden Party.
Tuesday 5th November 2019. Share Annual Awards Day.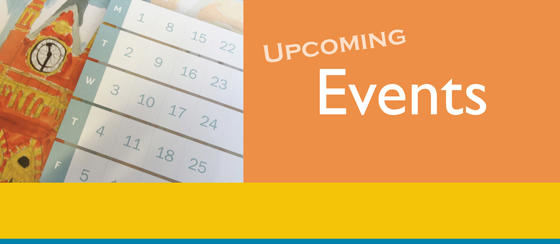 ---
You are receiving this email because you have had previous contact with Share Community, a registered charity based in Battersea that provides training and employment support for disabled adults. To find out more about Share, visit our website at www.sharecommunity.org.uk