There was a full house for Share's Open Day and the launch of our new Immersive Learning Space, which took place earlier this month.
Professionals working with disabled adults, carers and potential students looking to take their next step, as well as our supporters and partners within the community joined funders at Share to celebrate the official opening of the Ian and Mildred Karten Immersive Learning Centre, jointly funded by the Ian Karten Charitable Trust, the Wolfson Foundation and the Beatrice Laing Trust, as well as a legacy left to Share by the late Mr John P Heron.
In addition, as part of the Open Day, guests were able to learn more about the services that Share offers for disabled adults, including Yes Chef!, a new training programme in catering for young adults, and how we are implementing Student Star, an online system for measuring student progress.
If you missed the Open Day, but would like an information pack to be sent to you, email marcomms@sharecommunity.org.uk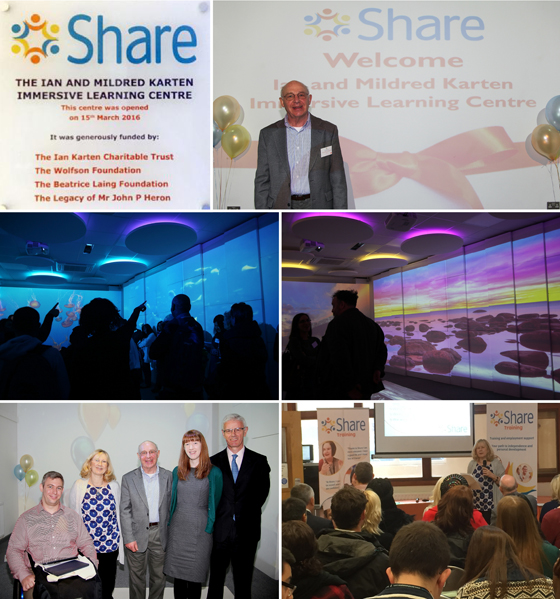 ---
Carer group tea and chat at Share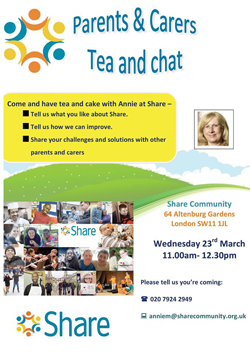 Are you a parent or carer for someone who attends Share? Then why not join us for tea and cake and tell us what you like about Share and how we can improve the services we provide for the person you look after?
This is a chance for you to discuss your challenges with other carers and parents, and to tell us how you think we can help.
So come along for tea and cake, and a warm welcome at Share on Wednesday 23rd March 2016, 11am to 12.30pm.
---
Creative writing at Share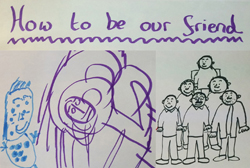 Share's Creative Writing Group meets every week, and with the help of volunteer tutors brings meaning to the life around us through words. And the creative juices have really been flowing over the past few weeks!
Our students' latest poem -
How to be our friend
- provides the A to Z of friendship and what this means to them. No surprises that S is for Share...but what about the rest? Take a look.
Another poem titled
Anger
focuses on what makes our students see red, orange or black! Check it out and see if you agree!
---
Ian - making the most of touchscreen technology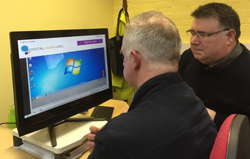 Last year,
Marks & Spencer donated a large touchscreen computer to Share
as part of their
Spark Something Good campaign
.
---
Volunteering at Share
Last month, we had the pleasure of hosting a team of four corporate volunteers - Freddie, Paul, Janine and Glen from CMS - in the Share Garden as part of our association with Benefacto, a social enterprise that aims to increase corporate volunteering in the community.
Our volunteers spent the afternoon helping students to clear the overgrown strawberry bed in one of our polytunnels by lifting all the plants and teasing out the nettles before cleaning up the strawberry runners and repotting them.
Commenting afterwards, they said 'A really well organised, fun afternoon of volunteering! Great to find out about how many projects are on offer. Share Horticulture does some excellent work in the local community, and it is a pleasure to contribute.'
Share's Horticulture Training Manager, Jenny Shand, commented that not only was it great to have volunteers helping us on a lovely sunny afternoon, but it also produced lots of potting work for our students for the rest of the week.
Find out more about volunteering at Share.

---
Part-time fundraiser wanted!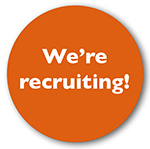 We are looking for an experienced and talented fundraiser to join our team to help Share grow and continue to innovate. This role entails taking responsibility for fundraising through trusts and foundations, and managing those relationships.
The deadline for applications is 30th March 2016.
---
About Share
Share provides training and employment support for disabled adults, including those with learning disabilities, physical/sensory impairments, autism and mental health needs.
Our core services include:
Find out more about other ways to get involved with Share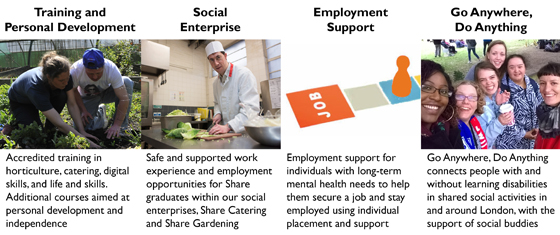 ---
Diary dates for 2016
18/19 June 2016 Open Garden Squares Weekend
21 June 2016 Share Student Summer Garden Party
23 June 2016 Share Evening in the Garden
8 November 2016 Share Annual Awards
15 December 2016 Share Winter Celebration
More information about all our events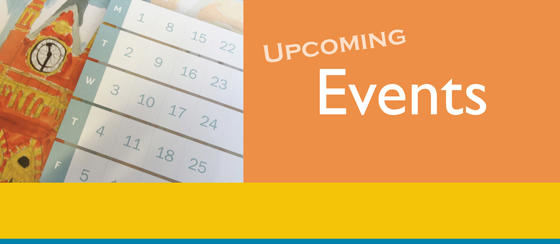 ---
You are receiving this email because you have had previous contact with Share Community, a registered charity based in Battersea that provides training and employment support for disabled adults. To find out more about Share, visit our website at www.sharecommunity.org.uk