So, ditch the diet for a day and join us for some coffee and cake, and share your thoughts and ideas about how we can help the person you care for become more independent. Then stay for lunch and our Open Day to learn more about the services Share can provide.

Share's Basic Skills students have been working on an eBay project to learn all about how to sell something on eBay. Students put together a project plan of all the steps involved and everything they needed to think about when selling something on eBay, from deciding what to sell and for how much, to photographing it and posting the advertisement on the eBay website, to making sure the right money had been received, to packaging it and sending it off to the successful bidder.
This project brings in a complex array of skills such as researching and knowledge gathering, and encourages joint working across the whole group with a view to achieving a collective objective.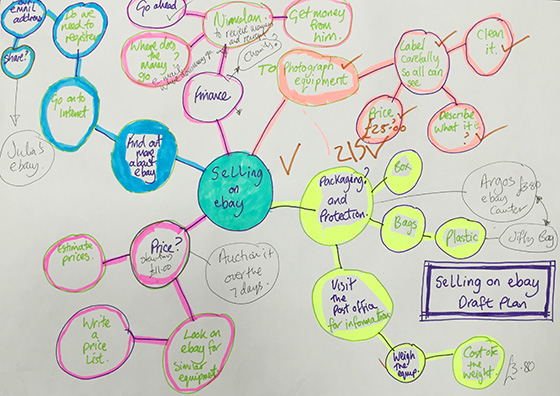 ---
Share's CEO shares some magic moments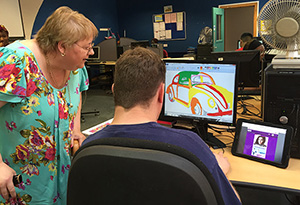 Share's Chief Executive, Annie McDowall, writes about a recent encounter with one of our students, David. This, she says, is just what makes working at Share so rewarding and magical.
"'Ere!" said David as he burst into my room this afternoon. "You listening?"
He's striking a pose in front of my desk and brandishing an iPad. "I'm listening," I say.
"D'you know why Gabrielle's my friend?"
"No, why?"
"Because every time I make a mistake, she's there to help!"
I thought David had very neatly summed up what Share's all about. We all make mistakes: we just need to know that there'll be someone there to help us out without making a judgement. With brilliant staff who love helping people to learn, students grow in confidence. There are more smiles, much more laughing, and even the shyest people making friends. There's a little bit of magic here every day.
Earlier on, Shaun made eye contact, gave me the thumbs up and said hello. Up until now, I've always been first to say hello, and he's tended to look away. Magic.
---
Cooling off in the summer heat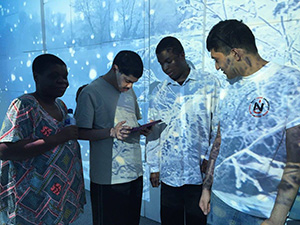 So summer finally arrived! For some of our students, seasonal changes can be a bit challenging and we need to encourage them to leave their winter clothes at home!
One of our new missions is to help people to understand which clothes to wear for each type of weather, so that they don't melt in the heat or freeze in the cold.
On the hottest day of the year, some of our students took refuge in our air-conditioned Immersive Learning Centre...seems like their thoughts were already turning to winter!
Have you got any tips to share on how to keep your cool in the summer heat? Tweet or send us a message.
---
Share music students in the community
Never ones to shy away from the stage, Share's Life Skills students were delighted to be invited to play a short musical concert as part of our local St Barnabas Church's coffee morning on 17th August 2016.
Community continues to play an important part of our work at Share, helping our students to get out and about, and play their part in our wider society. Thank you to everyone at St Barnabas Church for a very warm welcome.

---
Learning Disability Today Exhibition and Conference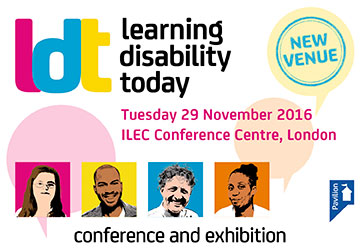 Share will be exhibiting at this year's Learning Disability Today Exhibition on 29th November 2016 at the ILEC Conference Centre in London.
Here are just a few of the sessions taking place at the Conference:
Reframing challenging behaviour
Health Care: What do people with learning disabilities want?
Feeling Down: Understanding depression and what to do about it
Sex Education – getting it right and what to do when things go wrong
So do come along and say hello to the Share team. Tickets are £35 +VAT and can be booked online. A limited number of free tickets are available for people with learning disabilities and their carers – email info@pavpub.com to apply for free tickets.