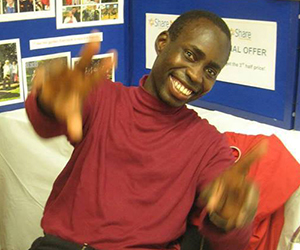 Earlier this month, we said goodbye and good luck to Tope, who has left Share to take up an apprenticeship with a catering social enterprise in north London. This is great news and, much as we love our students, being at Share for most people should be a stepping stone rather than a lifetime commitment.
Tope will be a superb employee. But in the month when we've cheered him into work, and when we've been inspired by the brilliance of our Paralympians, who've shown the world just how talented, determined and resourceful disabled people can be, it disturbs us to see the extent to which people with learning disabilities are being left behind. In 2010-11, the Foundation for People with Learning Disabilities reported that only 6.6% of people with learning disabilities were in work. It rose to 7.1% in 2011-12, but by December 2015, it had fallen to 6%. Yet national surveys find that 65% of people with learning disabilities want to work – and that figure is reflected in our surveys at Share.
There's a huge challenge ahead. Evidence shows that supported employment works brilliantly for people with learning disabilities, but we need to invest in work preparation and supported employment schemes. Work gives people self-esteem, a standing in society, independence, money, social inclusion and much more. So we're asking ourselves the serious and urgent question at Share: how can we support more of our students to realise their dreams of getting a real job?
Join the debate. Tell us your story. Are you disabled and working? Do you employ disabled people and people with learning disabilities? Can you help provide work experience and work opportunities for our students? Email Share's Chief Executive, Annie McDowall, via anniem@sharecommunity.org.uk
---
Live Music Now brings a taste of Rio to Share
Share students had a little taste of Rio this summer with a live Afro Samba concert performed for us here at Share HQ.
Kindly organised with the help of Live Music Now, an organisation that provides access to live music for those with special needs or those facing challenging circumstances, a fusion trio of keyboards, guitar and djembe with musical influences from Brazil and Western Africa got us all dancing...and what fun we had!
Huge thanks to Live Music Now for making this happen.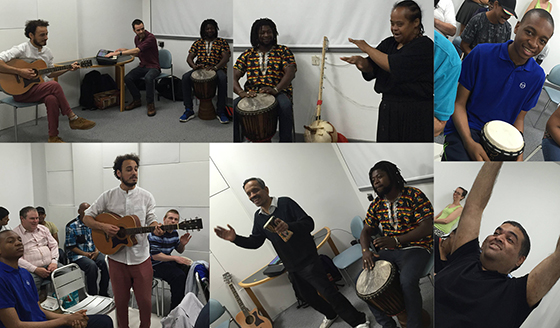 Check out more photos on our Facebook page.
---
Join us for Share's Annual Awards 2016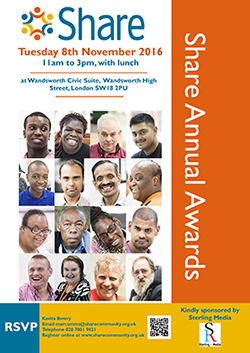 Share's Annual Awards will take place on 8th November 2016 from 11am to 3pm, and we very much hope you will be able to join us to celebrate our students' successes and achievements over the past year.
This year's event is once again sponsored by Sterling Media to whom we are most grateful for their continued support.

---
Carer Survey 2016 launched
Share has launched its Carer Survey for 2016. As part of our ongoing commitment to improving the services we provide at Share, we survey all stakeholders each year. Carers play an important part in our students' lives, and we want to know whether our services continue to meet the needs of the people you support and your expectations.
As a thank you for completing the survey, you will be entered into a prize draw to receive a hamper of goodies. More details about how to enter can be found at the end of the survey.
Tell us what you think and how we can help you address some of the daily challenges you face. You can complete the Carer Survey online at https://www.surveymonkey.co.uk/r/carersurvey16 or contact Leanne Wood via email leannew@sharecommunity.org.uk or telephone 020 7801 9825 to receive a hard copy of the survey.
The deadline for completed surveys is 28th October 2016.
---
Yes Chef! update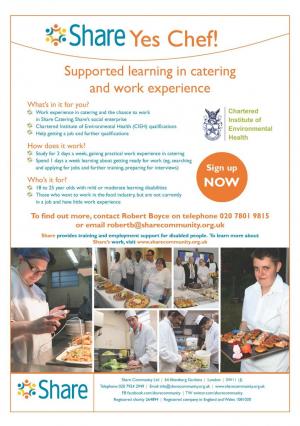 We are still accepting applications for Share's Yes Chef! training programme which is for young people aged 18-25 who are resident in Wandsworth and want to work in the catering and hospitality industries.
Our friendly and enjoyable course will give people confidence and help them to develop skills and abilities they didn't know they had! Trainees will get nationally recognised qualifications. And everyone who attends regularly for three months or more will receive a £50 gift towards working life.
To find out more or to apply, contact Robert Boyce, Share's Head of Training, via email robertb@sharecommunity.org.uk or telephone 020 7801 9815.
---
New staff join the Share team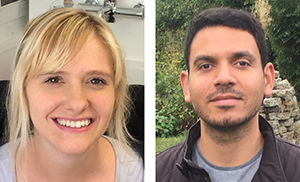 Share is delighted to welcome two new members of staff this month: Jenny Bourlet, our new Healthy Living Worker, who joins our wellbeing team, and Jonathan Rogers, our new Horticulture Training Assistant, who joins the horticulture team.
Jenny will be running our Live Well, Feel Great project and working with our students to help build healthy eating and exercise programmes tailored specifically to improve overall wellbeing and encourage independence.
Jonathan will be helping the horticulture team to support students at the Share Garden as part of their horticulture training, and also as part of their work experience with Share Gardening.
---
Healthy living focus groups
Jenny Bourlet, our very new Healthy Living Worker (see above), has wasted no time in getting to know our students to find out what aspects of healthy living they would like so that she can develop interesting, fun, healthy living activities for them.
Students at Share HQ and the Share Garden came up with lots of fantastic ideas for new activities they'd like to include in our healthy living programme, from skipping to hula hooping to learning about different health conditions and learning how to cook simple healthy meals.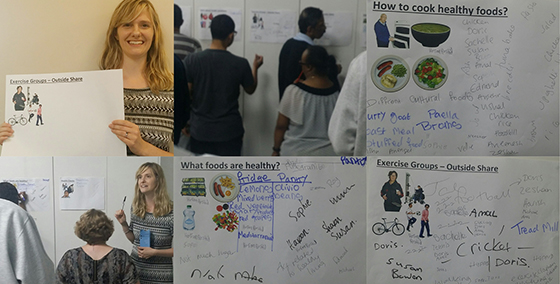 To find out more about Share's healthy living programme, get in touch with Jenny via email jennyb@sharecommunity.org.uk
---
Digital Day at Share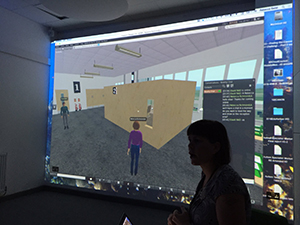 At Share, we continue to develop our digital strategy – that is, to make the most of digital technology in all aspects of our work, particularly in giving our students access to technology that can revolutionise how they live, learn and communicate. And our Immersive Learning Centre launched earlier this year was just one step in this revolution.
Our digital day therefore provided an opportunity for staff and volunteers to review and experience new and innovative technologies on the market that can be used by our students or as teaching tools within Share. From user-friendly Apps to electronic information PenFriends, Talking Photo Books and Wikis to virtual reality, we played and we learned...so watch this space for more funky digital developments!