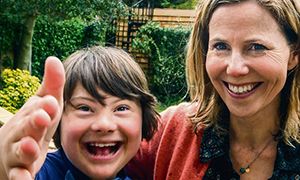 A new screening technique, approved by the UK Government, can predict whether or not a woman is carrying a baby with Down's Syndrome much earlier and with 99% accuracy, and without the risks inherent in amniocentesis.
This raises difficult questions about life, choice and us as a society, highlighting widely polar views among families and health professionals, and is the subject of a BBC documentary, 'A World Without Down's Syndrome?' by actress, Sally Phillips, whose son, Olly, has Down's Syndrome.
Share's Chief Executive, Annie McDowall, watched the programme and reflects on this very question in an article on Share's website. But what's your view? Tell us what you think – email Annie via anniem@sharecommunity.org.uk or join the debate via Twitter or Facebook.
---
Parents and carers information mornings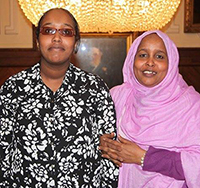 We've been running coffee mornings for parents and carers since the beginning of the year. It's a really useful way to find out what they think we're doing well, what we could be doing better and what they want us to do in the future.
We've learned a lot from these sessions, helping us to continue to improve our services based on the feedback we've received. Find out more about our findings so far on the Share website.
The final session for this year will take place on Tuesday 15th November, 2016, from 11am to 12.30pm, with refreshments, when the theme will be meaningful communication, and how we're using different approaches to enable our students to communicate.
If you are a parent or carer and would like to join us for this final session, book your place now by telephoning 020 7924 2949 or emailing anniem@sharecommunity.org.uk.
---
Prize winners enjoy afternoon tea at Polesden Lacey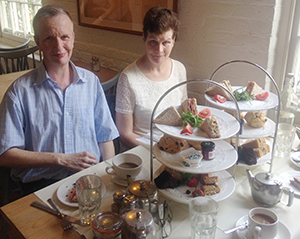 The first prize in this year's raffle at Share's Summer Garden Party was a family day out visiting the house and gardens of the National Trust's property, Polesden Lacey, as well as a hamper of goodies and vouchers for the café and restaurant.
This year's winner, Mrs Christine Smythe, the sister of two Share students – Edmund and Eileen – sent this photo of the family enjoying afternoon tea at Polesden Lacey. Great to see (those cakes look yummy!) and thank you for sharing.
Huge thanks also to all the folks at Polesden Lacey for their continued support of Share over many years.
---
Share students doing their bit in the community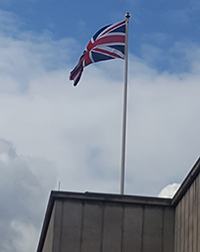 A brand new Union Jack is flying strong above the Lavender Hill Magistrates' Court in Battersea. And all thanks to Share's students who alerted authorities to the sorry state of the previous flag and asked for a new flag to be raised.
This was achieved as part of a Digital Skills exercise which involved students taking pictures of the old flag using iPads, researching online who to complain to and then sending an email to ask for the flag to be replaced.
And, seven days later, hey presto!
---
A Halloween treat
This week, Karina, Joyce, Djuna, Ummair, Harish, Angela, Amal, Dionne, Vishal, Harris and Karen, members of Share's Creative Writing Group, penned a seasonal story in time for Halloween.
Read how Margaret, the wicked witch, tricked children during Halloween.
---
David – gone to soon
This month was tinged with great sadness as we heard about the sudden passing of one of our dear students, David, who had studied at Share since 2010. Often described as brusque, David was also one of our most gentle and caring students, taking great pride in helping others.
Change was something David always found difficult but, in recent months, we had worked with him to develop strategies to help him cope better with new environments and breaks in his routine, and we saw the difference these were making over time as he grew more confident and willing to take the initiative to undertake tasks independently.
As someone with a big presence, he leaves a big hole in the hearts and minds of those at Share, and we shall miss him immensely.
David's funeral will take place on 11th November 2016 at 3.30pm at the Lambeth Crematorium and Cemetery, Blackshaw Road, SW17 0BY, which is situated opposite St George's Hospital. Afterwards, everyone is invited back to Share at 64 Altenburg Gardens, London SW11 1JL for a wake to remember David and celebrate his life. How to find Share