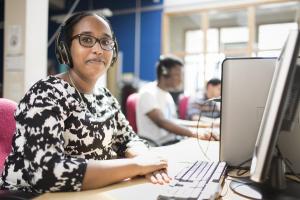 This introductory course in digitial skills for life provides an initial taster for those new to computing and all things digital.
It covers digitial skills for living, work and creativity.
For living
Setting up and using your own email address
Using a mobile phone and electronic tablets
Searching for things you like on the Internet (eg, places to visit, music, recipes)
Journey planning online
Using Skype
For work
Looking for jobs online
Using Microsoft Office to write letters and emails, make spreadsheets and put together presentations
Using online forms
Printing, scanning and photocopying
For creativity
Designing your own artwork (eg, making posters and invitations)
Making your photos look better
Editing music and videos
To find out more, email info@sharecommunity.org.uk or telephone 020 7924 2949.