Published: 27/03/2015 - 15:49
Share is delighted to once again be hosting our Evening in the Garden fundraising event on 17th June 2015, from 6.00pm to 9:00pm.
This event is an opportunity for us to connect with our local community and supporters, show off the great work Share students do, and also to say thank you to all those who have supported our work over the years.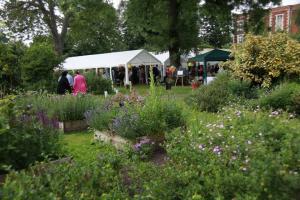 So, please join us for drinks and canapés in our stunning garden within the grounds of Springfield Hospital in Tooting, learn more about our work and get involved in your local community, while taking the opportunity to network with our corporate partners and other local businesses.

As always, Share Catering will be providing sumptuous tasty treats for everyone to enjoy and, this year, we are very excited to have the lovely ladies from Treblemakers (what a great name!) join us and bring some summer song.
Register now for Share's Evening in the Garden.