Published: 21/09/2017 - 13:38
As well as healthy eating, our health and wellbeing programme focuses on exercising and getting fit.
So, earlier this month, in the first of what we hope will be regular sports days, Share students headed off to Battersea Sports Centre to take part in a number of sporty sessions run by our partners Disability Sports Coach, which provides accessible and inclusive sports activities.
Armed with the paper crowns and an Olympic torch they had created the previous week in readiness for sports day, our students were all set for Share's very own Olympics.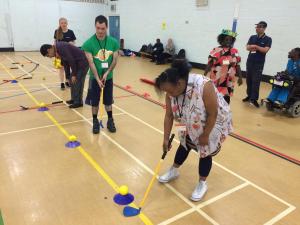 During the day, our students were able to try new sports – the aim being that they had fun while getting fit. The spacious sports hall meant students were able to try golf, football, cricket and botcha in a supportive and encouraging environment.
The day was a huge hit among both our already committed sport-loving students and those who are exploring sport, exercise and fitness for the first time:
"Very good, I liked the cricket." Ian
"Very good, we did cricket, football, botcha, golf. My favourite was golf. It's good exercise." Eileen
"I kicked the ball, I liked it." Rachel
"It was brilliant, I want to do it again, I like football." Chris
"I loved it, I liked the golf and botcha." Claire
"I liked botcha, football and cricket – we did exercise." Mark
"I feel good, a lot of energy, good fun. It keeps your mind off other things and it gives you confidence." Suzanne
Another sports day is planned for October so students have the opportunity to try more sports, get fit and have yet more fun.
To find out more about our healthy living programme, contact Jenny Bourlet, Share's Healthy Living Coordinator, via email jennyb@sharecommunity.org.uk or telephone 020 7801 9813.