Published: 11/04/2016 - 12:00
Spring may be struggling to emerge, but here at Share our thoughts are already turning to Summer as we get planning for our garden events for June.
This year, we kick off the season by participating in Open Garden Squares Weekend on 18th and 19th June 2016 when we will be opening the Share Garden to the public between 10am and 5pm. We will be joining more than 200 gardens in and around London to show off our beautiful 2.5-acre walled garden, which is looked after and cared for by Share students as part of their horticulture training.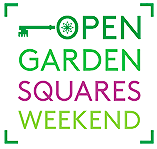 During the weekend, we will have plants sales, including veggies and herbs as well as decorative plants, and Share Catering will be providing cake and refreshments to help recharge the batteries for your next horticultural venture. Find out more about the Share Garden. Book tickets for Open Garden Squares Weekend.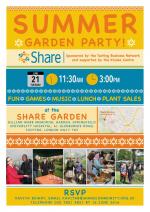 Hot on the heels of Open Garden Squares Weekend will be Share's Summer Garden Party for our students, their families and friends, as well as our partners and sponsors in the local community on Tuesday 21st June 2016 from 11.30am to 3pm. This event is once again sponsored by members of the Tooting Business Network in association with the Khalsa Centre in Tooting, who will be providing a delicious lunch. This is a chance for all our students to enjoy a leisurely day with music and games in the garden they help to create. And, of course, there will be plant sales for our guests to take a little bit of the Share Garden to enjoy at home. Register for Share's Summer Garden Party.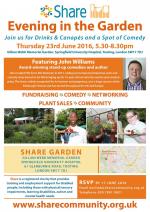 We finish the week with Share's Evening in the Garden on Thursday 23rd June 2016 from 5.30pm to 8.30pm, a fundraising and networking evening for our supporters, partners, friends and sponsors in the local community, with drinks and canapés provided by the Share Catering team. This is a chance for our guests to enjoy the tranquillity of the Share Garden and see it at its ultimate best, and for us to show off the great work our students do at Share through their vocational training in Share Catering and Share Gardening. Register for the Share's Evening in the Garden. And, this year, we are delighted to be featuring award-winning stand-up comedian and author, John Williams, who will be providing a spot of comedy during the evening based on his blog My Son's Not Rainman.