Published: 2/06/2015 - 18:02
The Share Garden awaits! We will once again be opening up the gates to our beautiful 2.5-acre walled garden in the grounds of Springfield University Hospital in Tooting for Open Garden Squares Weekend (www.opensquares.org) on 13th and 14th June. Over 200 gardens will be open to the public across 27 London boroughs, many of which are close to the Share Garden in southwest London.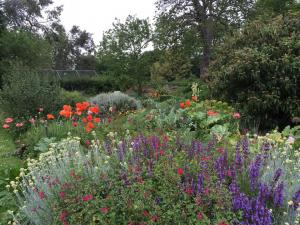 Come and enjoy this little bit of green in suburban London, break for a cuppa and some cake or scone! Or bring a picnic and while away the day.
The Share Garden is based in the Grounds of Springfield University Hospital, in the Gillian Webb Memorial Gardens (next to building 15) at 61 Glenburnie Road, Tooting, London SW17 7DJ.
Check out Garden D8 on page 26 of the Open Garden Squares Weekend guidebook for more information about the Share Garden.