Published: 1/12/2014 - 15:22
Congratulations to all our students who picked up their awards at this year's Share Annual Awards Ceremony on 4th November 2014 at the Wandsworth Civic Suite.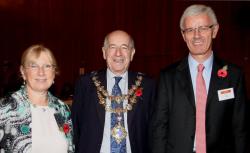 The awards, which were presented by the Worshipful Mayor of Wandsworth Councillor Mr Stuart Thom, represent the highlight of Share's academic year and are given in recognition of each student's hard work and personal achievements. Most of our students were picking up accredited, nationally recognised qualifications following exams and coursework completed during the past year.
As well as awards for accredited qualifications, special awards were presented for Outstanding Achievement Over the Year to Joyce, Hannah, Rachel, Teresa, Daniel, Karina and Raymond, each of whom had taken particularly important steps towards their personal goals or contributed significantly to life at Share.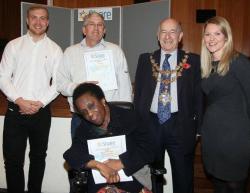 This year's Peter Jablonski Award for Outstanding Achievement and Perseverance in the Face of Adversity, which was established some years ago following the death of Peter Jablonski who was general manager at Share, was jointly awarded to Chris and Dionne, by Ana Jablonska and Ryan Jablonski, Peter's children.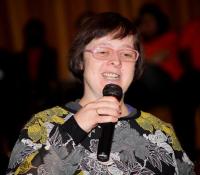 During the ceremony, Suzanne, a Share student, who recently started working at the Southbank Centre as a host, described her experience of working in paid employment for the first time.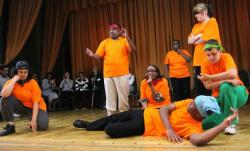 Meanwhile, some of our other students took to the stage with performances in streetdance, choreographed by Saffron, herself receiving support from Share's employment service, and music from Share's music group run by Share's music tutor, Frances Barrett.
A special Chairman's award was presented by Share's Chairman of the Board of Trustees, Bill Morgan, to Tony Hyam for his contribution over 21 years to Share Life (and telling the worst jokes!).
The ceremony was also our opportunity to thank all the wonderful volunteers who helped Share over the past year – from assisting in training classes, to helping our fundraising initiatives, to going out and about with our students on social events, and much more – so many people giving their time so generously, and something we are eternally grateful for.

Particular thanks must go to Sterling Media and the Khalsa Centre in Tooting for sponsoring and providing a delicious lunch for all our guests!
For more photos, visit Share's Facebook page.