Published: 20/12/2016 - 13:55
We were delighted to get together with Share friends, supporters and partners for a little festive sparkle among the fabulous backdrop of the River Room at the House of Lords on 15th December 2016.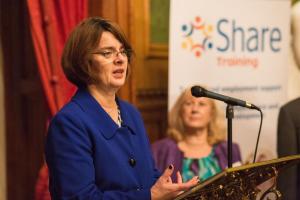 Thanks to support of our Patron, Lord Alf Dubs, and the generosity of the Lord Speaker, this was a rare opportunity for us to share the splendour of this unique state room, with spectacular views of the Thames, with our guests while showcasing how Share is using digital technology to transform learning, living and communicating for disabled people, especially those with learning disabilities and/or autism, and those with visual or hearing loss.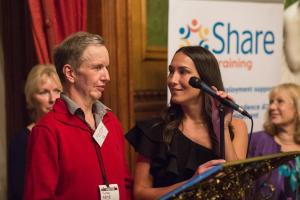 The star of the event was Edmond, one of Share's life skills students, who has been using technology to learn how to cook a healthy meal at home. This journey is catalogued in a short film – Edmond's Potato – which premiered at the House of Lords event, and shows the difference technology can make in people's lives.
Thank you to all our guests for their support, including, Jane Ellison, our local MP for Battersea, the Mayor of Wandsworth, Cllr Richard Field, and Patricia Hodge, one of Share's Patrons.
Check out more photos on Share's Facebook page