Published: 11/07/2017 - 15:32
Share students have been learning all about heathy eating as part of our Independent Living Skills and Healthy Living programmes. The aim of this project is to help our students to make healthy, nutritious meals that they could easily prepare at home, and try fruits and vegetables that they've perhaps not eaten before. It also helps to raise awareness about the importance of eating '5-a-day' as well as eating a variety of rainbow coloured fruit and vegetables to get the most nutrients from food. 
As part of the project, which takes place at the kitchen at Randall Close Resource Centre run by Leonard Cheshire Disability, students visit a local supermarket to buy all the items on their shopping list which they then use to cook a nutritious, colourful and tasty lunch for each other using easy-read recipe sheets specially designed for the project by Share's Healthy Living Coordinator. So far, recipes have included healthy pizzas, salads, pesto pasta and Mexican wraps. Students learn how to chop ingredients safely and use everyday domestic appliances to prepare the meals.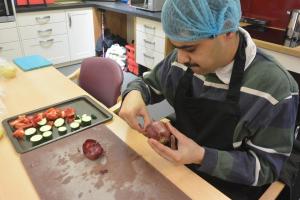 One of the aims of Share's Healthy Living programme is to tackle some of the healthy inequalities faced by people with learning disabilities (eg, they are much more likely to be seriously overweight). Our focus is therefore to support our students to improve their overall health and wellbeing, and to make sure that this learning and knowledge continues at home, so we are encouraging students to take the recipes with them to try at home and let us know how they got on.
For more information about the Healthy Living Project, contact our Healthy Living Coordinator, Jenny Bourlet via email jennyb@sharecommunity.org.uk or telephone 020 7801 9813.