Published: 6/07/2017 - 13:17
Following news that the UK was heading to the polls for the second General Election in just over two years, Share organised its very own Share Election to help our students engage with the General Election and develop an understanding of the country's democratic process.
As part of this work, we ran a couple of workshops to encourage students to register to vote. We were very happy to discover that many Share students were already registered. But this exercise did manage to engage some new voters - in particular, Harish who registered to vote for the very first time...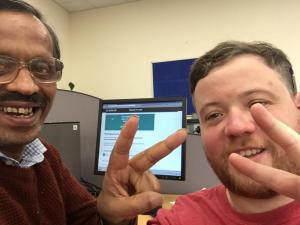 To keep things topical and hopefully enthuse our students to vote in the General Election, the Share Election took place on 8th June 2017, the same day as the General Election. A number of activities were organised to get students involved with every aspect of the political process, with the help of Share's Immersive Learning Space to recreate 'real-life' scenarios.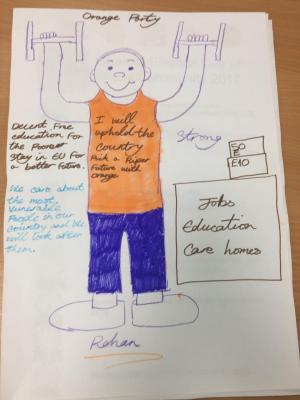 In the first session, students were asked to invent their very own political party. We had some fantastic ideas and also one or two very fun ones!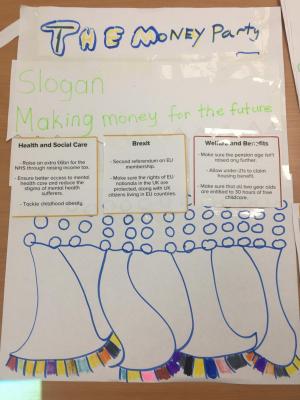 Once the parties had formed, students selected a leader and each party worked together to create a party poster, including a slogan and a logo. Students then used iPads and other digital tools to create party political broadcasts, after which all students watched each broadcast and provided feedback for each party.
In the second session, students set about learning about the real political parties in the UK with the help of some fantastic resources such as Simple Politics Based on the policies they had highlighted and chosen, students formed parties allied to the main political parties taking part in the General Election, and were asked if they would like to take on the role of representing that party in Share's very own Election.
Three parties were eventually chosen (Liberal Democrats, Labour and the Green Party) - this required our original invented parties to merge and form larger parties. It was fascinating to see the parties argue and debate (and eventually democratically vote) for a new leader of their (now larger) parties.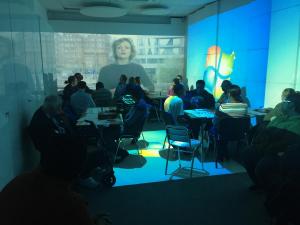 Students then went on to learn about the real political parties by studying Easy Read manifestos published by the main parties (we did, however, note that no Easy Read manifesto was published by UKIP) and watching each party's political broadcast. This helped our students to select some policies and statements that they agreed with and were most important to them.
Each student leader of the main (mock) parties was then asked to make a short speech about why people should vote for them, after which all our students took to the Share ballot box to vote for their chosen party.
Voting was carried out within a specific voting space, complete with voting booth with each student using a polling card that closely resembled the cards used in the General Election. Students were requested to give their name prior to voting (as they would at a real polling station) after which they placed their voting card in the Share ballot box.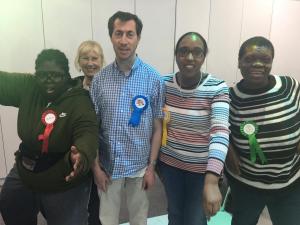 Once the votes were cast and counted, Annie McDowall, Share's CEO (or the Mayor of Share as she was referred to on the day!) announced the results! Check out who won the Share Election in this short video: