Published: 19/04/2018 - 11:45
Earlier this month Share's Independent Living Skills students headed to the Houses of Parliament at Westminster as part of the Law & Order modules of their course. During this visit, our students had a guided tour led by an expert historian who showed them the various rooms and halls within the building.
Our students were able to go into the famous House of Lords and the House of Commons, and stand by and experience the very benches where so many monumental and historical decisions affecting the governance of the UK have been taken over the ages. They asked some great questions and also had an opportunity to explore the gift shop afterwards.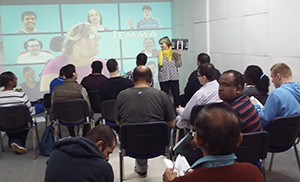 A special follow-up workshop designed for people with learning disabilities was arranged where two instructors visited Share to teach our students all about the basic structure of parliament. As part of this session, our students learned about the key positions within Parliament, such as the Prime Minister, Opposition Leader, Speaker and Members of Parliament (MPs), and what role they play in governing the UK. They also learned about the different chambers within Parliament (ie, House of Commons and the House of Lords) and how they make laws.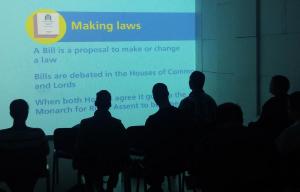 Our students then made up a law they would like to see enacted and took part in a mini-vote to decide which was their favourite. The law they chose related to ensuring there was fairness, respect and politeness for everyone in public, especially towards minorities and those with disabilities. Our students then discussed what they thought an MP's most important responsibilities were and firmly decided that MPs should meet and talk to people who want to change how things are done.
The students had a wonderful time doing this workshop and gave positive feedback. Huge thanks to the Education and Outreach Office at Parliament for their support and guidance in organising the trip to Parliament and the in-house workshop.