Published: 29/11/2017 - 14:56
Share's Annual Awards Ceremony took place on 7th November 2017 at the Wandsworth Civic Suite. It's a time for everyone in our wonderful community to come together to celebrate the best of Share and there was certainly much to shout about this year.
We were delighted to have the Mayor of Wandsworth, Cllr Leslie McDonnell, and Marsha de Cordova, our local MP for Battersea, as well as our Patron, Patricia Hodge, with us to join in the celebrations and make our day extra special for our students.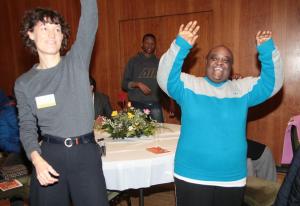 A major focus for us over the past year has been our healthy living work which is now well embedded into our new independent living programme. This work tackles the many health inequalities faced by people with learning disabilities, and encourages and supports our students to eat a healthy diet and take more exercise. So it seemed fitting to have a little health and wellbeing for all our guests at our Awards Day with a little Zumba – special thanks to the folks at Disability Sports Coach (DSC) for providing a fun session for everyone.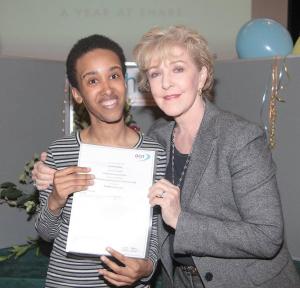 As well as accredited certificates, special awards were presented in recognition of outstanding performance throughout the year were to: Hassan Malik, Paul Overton, Rumina St Helaire, Shanice Tomlinson, Chris Browne, Claire Hawe, Daniel Robinson and Gifty Hammond.
The Jablonski Award for Perseverance and Outstanding Achievement in the Face of Adversity, presented each year in memory of Peter Jablonski, a former manager at Share, was this year jointly given to Mansoor Kambar, Daniel Robinson and Jennifer Gaynes.
Among all the celebrations, we did say a sad but fond farewell to our lovely wellbeing manager, Keesha Sinclair, who worked tirelessly with since 2011, advocating the absolute best for every student at Share. Keesha moves to pastures new, but will forever be in the hearts of everyone at Share Community for the love and kindness she gave us all.
For more photos, visit Share's Facebook page.