Published: 21/09/2017 - 13:02
Share students took part in Tesco's Farm to Fork Trail (part of Tesco's Eat Happy Project) to learn all about healthy eating at Tesco Brixton.
During the week long programme, our students got a chance to try lots of healthy snacks and food that they hadn't had before, and learned about the content of various foods (eg, how much sugar is in cereals), how to budget for a healthy meal and what an athlete needs to eat to stay healthy.
In addition, these sessions encouraged our students to think about how they could make some healthy food swaps in their own diets.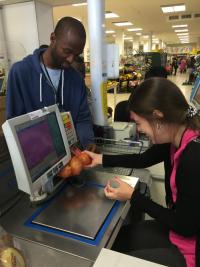 Our students also improved their independent living skills by practising how to navigate around a supermarket, understanding food labelling and they were even able to practise working on a till!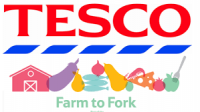 Students were abuzz following their visit to Tesco saying 'it was fun' and that they really enjoyed the food tasting, saying 'we should go again', so we've arranged for the Farm to Fork team to run some seasonal sessions back at Share.
To find out more about our healthy living programme, contact Jenny Bourlet, Share's Healthy Living Coordinator, via email jennyb@sharecommunity.org.uk or telephone 020 7801 9813.