Published: 18/10/2017 - 15:15
As part of our healthy living programme, this month we welcomed a dental hygienist from Summerstown Dental Practice who ran two interactive sessions for our students on dental care, including topics such as how to brush your teeth, what happens at dental appointments and how important it is to have regular check-ups.
Our students were able to practise using floss and interdental brushes on a plastic dental model which helped them improve their practical skills. The morning sessions were followed by a practical afternoon session in our Immersive Learning Centre where students learned about which foods are better for your teeth and also took part in a role play exercise to practise calling the dentist to make an appointment.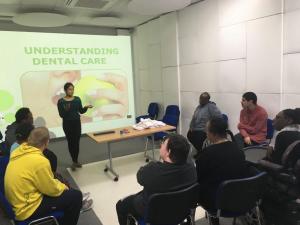 This 'Understanding Dental Care" session is part of Share's wider health awareness programme which is an integral part of our Independent Living Skills curriculum. As part of this work, Share students will be learning about setting healthy goals, annual health checks, cancer screening programmes, as well as many other health topics that help to improve health awareness. These sessions are designed to help improve understanding and ultimately aim to reduce some of the health inequalities people with learning disabilities face.
Share is partnering with local health and wellbeing services to ensures students are aware of the local services available to them and how to access help and support.
For more information about health inequalities, check out this video that Share students made to highlight some of the challenges they face in accessing health services, as well as some of the things that are making a positive difference in their health care.
"It was good, we got toothpaste. I brush my teeth every morning." Venisha 
"We talked about teeth, using floss and brushing your teeth. I liked it." Gifty 
"We learned about cleaning your teeth." Sophie
"Very good, we got goody bags." Karina
"We brush our teeth all the time, and use mouthwash." Mark
"Good, we learned how to keep our teeth clean, we got a toothbrush and toothpaste." Ummair
To find out more about our healthy living programme, contact Jenny Bourlet, Share's Healthy Living Coordinator, via email jennyb@sharecommunity.org.uk or telephone 020 7801 9813.