Published: 27/01/2017 - 13:28
Over the past few weeks, we've been working in partnership with Choice Support, a social care charity, to deliver a 'Jack and Josephine' programme for Share students aimed at understanding the nuances of friendships and relationships.
This six-week programme includes the use of life-size, anatomically correct cloth dolls named 'Jack' to represent males and 'Josephine' to represent females to demonstrate key learning points for each of the sexes within three areas:
Feeling good, which discusses feelings, personal hygiene, self-awareness
You and me, which discusses the difference between liking and loving relationships, and boundaries
Love and relationships, which discusses the right to have a relationship with whoever you wish, including same-sex relationships
The dolls are a unique learning resource for people with learning disabilities to familiarise themselves with talking about each of the sexes and understanding these often very personal issues.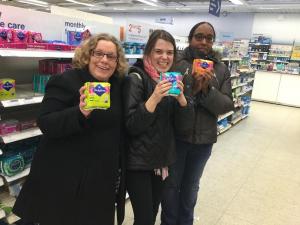 Each session is followed-up with a practical activity workshop – for example, working in teams to find and purchase personal hygiene items in the supermarket – delivered by the Share team to embed the learning and enable real-life community-based learning that students could implement within their own lives.
Going by the comments received from students so far, the programme has provided a fun mechanism for learning and talking about what can be sensitive topics: 
"It was funny; we learnt a lot of things, when I went home I changed my bed. Doris couldn't stop laughing"…Yasmin
"I was really enjoying myself, we had to change her clothes and brush her teeth. We all enjoyed ourselves"…Doris
"It was so funny, we learnt about changing your clothes everyday and spraying your armpits"…Chloe
"I learnt how to wash and shave, I enjoyed it"…Harish
"I think it was good. I liked coming to the workshop. We learnt how to dress, keep yourself clean and about changing your clothes"…Joyce