Djuna has been studying at Share since May 2016. He studies Basic Skills and Catering with us, and also attends our Creative Writing course.
Djuna is a shy young man who is kind and gentle with a sweet nature. During his time at Share, he's become a popular and valued member of our community – as evidenced by the way his peers deal with and encourage him. He has a presence that is immensely positive – an all round wonderful personality to be around. 
Djuna has a non-verbal style of communication, so although Djuna always seemed to be enjoying his time spent in his various courses and his peers clearly enjoyed his company, his sensitivity to eye contact and his anxiety about doing the wrong thing made it difficult for him to demonstrate his skills.
Staff at Share therefore decided to work with Djuna to develop their own ways of working and communicating with him, to unlock what works best for him and he has blossomed! And it's been a joy to see how he has progressed while he has been at Share.
Basic Skills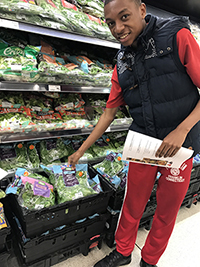 Share's Basic Skills Tutor, Julia Roxborough, has been working with Djuna to develop a rapport and they now have their own system of communication through body language. She notes that Djuna is now engaging with all the tasks set, which are always presented to him in a multiple choice fashion to help selection. He now appears to be more confident and can indicate the correct answers to questions posed. This has helped us to recognise his achievements and helped him to develop his own sense of satisfaction. We are therefore confident that he will now be able to attain the necessary criteria for him to achieve a City & Guilds certificate.
Catering
Djuna has developed very well in Catering at Share. He now remembers the most important things he needs to do when in the kitchen and in what order; for example, put on his apron and hat, and wash his hands. He also knows how to hold a knife when walking around the kitchen and knows how and when to wipe down his section using the correct method of cleaning.
Catering Tutor, Kenny Anderson, notes that Djuna will now call him by his name and smile, and in this we have recognised that Djuna is gradually starting to settle down. Djuna is a very bright person and can understand most tasks given. He has very good at attention to detail and, when he is shown how to do something, he is able to copy it carefully and precisely, especially if there is more than one colour involved.       
Djuna has become a good member of the Catering team and has already made good progress in his achievements with all tasks given. We are now working with Djuna to see if he would like to undertake a CIEH qualification in Catering.
Creative Writing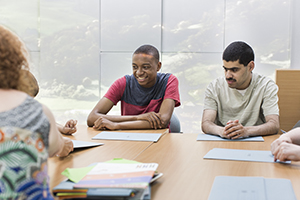 Share's Creative Writing tutors have noticed that Djuna has become much more confident at actually coming into the room. He used to hesitate and linger outside and if anyone looked at him or spoke to him he'd flee. But these days he strides in and sits easily.
Eye contact is also much improved, and he will try to express himself more frequently. Although he will still look away if he feels under pressure, he takes his turn when we go round the class and joins in happily – for example, with the game the group played last week that involved throwing a dice and choosing letters and then coming up with words. Last week he copied out loads of words from the whiteboard, totally unaided. He has very neat handwriting! He was keen to read them out (along with the tutor).
He seems to enjoy being part of the group, and these days he copes much better when things get rowdy/noisy. When writing with him individually, the tutors tend to give him word/answer options to choose from and he can be quite decisive in the ones he wants. He also enjoys choosing cards/pictures for himself and dressed up happily in a false beard for one story game.