Share has been working with Oak Lodge School, a residential and day school for students with hearing, speech, language and communication needs, since October 2014.
The partnership involved Jenny Shand, Share's Horticulture Manager, running a series of gardening workshops at the school and working with a number of Oak Lodge students on their allotment.
This lead to Rahat, a Year 11 student from Oak Lodge School, attending the Share Garden once a week to take part in Share's mainstream horticulture training programme. From his very first session in the garden, Rahat showed a real aptitude for horticulture and showed an interest in all aspects of gardening from seed sowing to planting and caring for plants.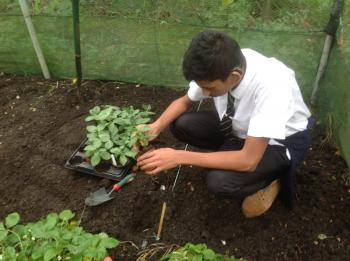 Rahat subsequently registered for the Level 1 Certificate in Practical Horticulture Skills and, in June this year, successfully achieved all the credits required for a full Certificate.
Jenny and the horticulture team at Share are delighted that we has been to help Rahat develop his gardening skills, and we were particularly pleased to hear that Rahat has decided on a career in horticulture by applying for a Traineeship with the Royal Parks. 
Deputy Head Teacher at Oak Lodge School, Christine Mukasa, said 'On behalf of Rahat and Oak Lodge School, I would like to say a massive thank you to you and your team for all the work you have done with young Rahat. He has surpassed expectations. He has come through the first round of informal interviews for the Royal Parks and is now preparing for the formal interview next week.'
For Share, it has been a pleasure to play a small part in Rahat's journey, and we look forward to hearing how he progresses through his career. Well done, Rahat, and all the very best for the future.