John joined Share in 1999, and studies horticulture with us for three days a week. John was very young and a little shy when he first joined Share, but it didn't take him long to settle in and get to know everyone. It is now hard to imagine the horticulture project without him now and his cheerful outlook always lifts everyone's spirits.
John is an easy-going personality, and is a very active and popular member of the team, with a cheeky charm that makes everybody smile. He has a wide circle of friends all over Tooting and Springfield University Hospital.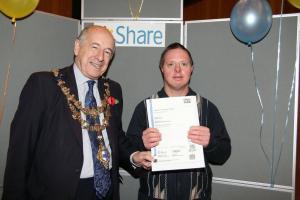 Throughout his time at Share, John has worked towards qualifications. He was one of the first students to complete the full Level 1 Certificate in Practical Horticulture Skills. He is now working towards his Level 2 Certificate in the same qualification.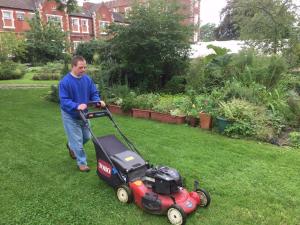 In the garden, John has always enjoyed being part of the plant production team – sowing seeds, pricking out seedlings and potting on new plants. More recently, John has impressed us all with the way he has got involved with Share's social enterprise, Share Gardening, which has led to him taking a more active role in garden maintenance at the Share Garden as well. John enjoys working off site with Share Gardening's senior gardener, Elke Pagitz, especially on the Burntwood Villas contract where he is becoming a bit of an expert with the leaf blower and the mowing machine. John also likes helping out with plant sales at garden events. John has been helping with the latest mosaic project and is showing us a bit more of his artistic skills.
John's recent involvement with Share Gardening has represented a big change for him. He started working with Elke in the garden and found that he liked outside work more than he thought, and he is now a regular member of her team.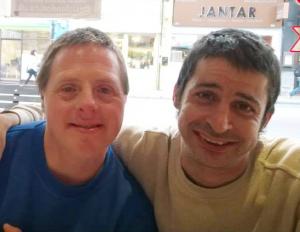 John has also been on a number of trips with Share's Go Anywhere, Do Anything project, with his favourite outing so far being the Curry Night.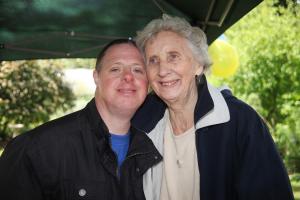 Outside of Share, John enjoys spending time with his family and most summer weekends are spent at the coast where the family have a chalet. He likes walking his dog on Tooting Common, playing computer games, flirting (!), tuna sandwiches and hot chocolate. And, to boot, he make a great cup of coffee! But he doesn't much like travelling on buses full of noisy school kids.
John is very happy with his life at the moment. He is looking forward to being able to join some more of our Go Anywhere, Do Anything trips over the next few months, and comments, 'There are lots of different jobs to do. I like the work, my friends, going shopping for compost or plants.'