Karina joined Share in 2013, and studies digital skills and life skills with us.
Karina has cerebal palsy and epilepsy, and paralysis that affects her leg muscles. She uses a motorised wheelchair and travels independently around London, but has personal support from a carer to help her whenever she needs it.
Life at Share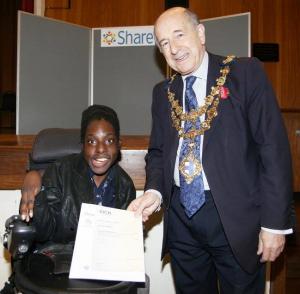 At Share, Karina is very comfortable using all forms of technology, but particularly enjoys learning on the iPad. As part of her life skills course, she has been learning about safety in the home, looking after yourself and being healthy. One of her key aims is to enhance her reading skills. In her art and crafts classes, Karina has been learning to sew and felt, and has recently started painting with her mouth. And, amazingly, she still finds time to attend Share's creative writing course once a week!
During her time at Share, Karina has also been cycling with Share (see video below) – when asked about whether she'd like to go cycling again, she laughs and responds, 'I wouldn't say no'.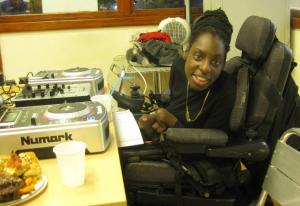 Life as a DJ
Karina has many personal interests, especially music. She DJs on a regular basis, including at Share events, where she certainly had us dancing till we drop, and she also sings in a gospel choir.
Karina, the charming (if cheeky!) personality
Karina is an interesting, bubbly, cheerful and happy person, always carrying a huge smile. Often cheeky, with a wry sense of humour, she certainly keeps everyone at Share on their toes (and that's without running us all over in her motorised wheelchair – an amazing driver, we're convinced she could give Lewis Hamilton a run for his money!).
The future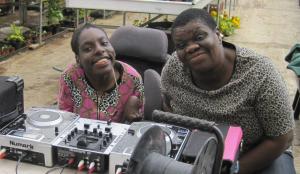 Looking to the future, Karina would like to develop her DJing skills, and would also like a job supporting other people at Share. Speaking about her time at Share, Karina says she's enjoyed having the opportunity to DJ at Share events and notes, 'Share has friendly people who help me to get the best out of my life.'