What the hell was I thinking?
Two years ago I was offered the role of creative writing teacher at Share Community; and my first reaction was to say thanks, but no thanks!
I had misread the advert, assuming the work involved teaching disabled children. Had I realised at the time it would mean working with adults, I'm ashamed to say, I wouldn't have applied; my experience of any interaction amongst adults with life-limiting conditions being zero.
At the interview I was introduced to a few of the prospective students. My communication, at that first meeting, was at best patronising and at worst hopeless. The students' learning difficulties were beyond anything I'd encountered in my previous walks of life – working in the City and studying for a Creative Writing MA. I felt intimidated and daunted. Were I to be offered the job, it would just be easier to turn it down and return to my studies, where elegant prose and poetry were the only things that mattered. I would get over the sense of shame I felt, and I could pretend none of it had happened.
But isn't that what so many people do when faced with disabled adults? Who did I think I was?
So when the job was offered, I took a deep  breath, muttered something about getting over myself and said yes please.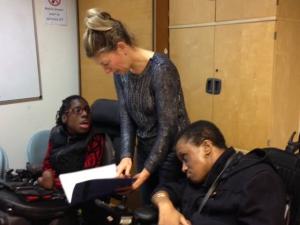 For the last two years I have spent every Tuesday morning in the company of ten wonderful, joyful students. The lessons were challenging, as not all of the students could read or write and many had very short attention spans. But by adapting each class to ensure that there was music, words, pictures, videos, photos and walks in the park, we were able to explore the topics of weather, sea, happiness, fear and dreams, and go on to create poems, stories, magical sentences and images that delighted them and amazed me. We have showcased the work on posters that have adorned the canteen walls, been included in newsletters and made appearances on Facebook. We achieved tangible results.
I hope that the students feel they have learnt and been creative, but I'm sure that they can't have learnt as much as I have. With both physical and mental limitations, the students have a relentlessly positive outlook on life. They live wholly in the present and enthusiastically embrace the basic wonders of life – family, food, nature, friends and music, as well as the additional joys of shopping, watching movies, food (Have I mentioned that? They did. A lot!) and going to parties. When I asked one of them what was the best thing in her life, she answered 'my wheelchair'. For a moment I faltered until I realised that her wheelchair was her mobility and her independence: simply an extension of her. The fact that she lives her life in one is a given; something she accepted a long time ago. If I wanted to work with the students I had to step into their minds, understand how they saw the world and forget about how I saw them. And so for those few hours on a Tuesday morning, I learnt to be my best self, something that I don't think I achieved at any other time of the week. There was no room for frustration, judgment or doubt, there was only room for an unquenchable belief that we could achieve anything, accept everything, and do it all smiling.
So two years on, do I now know why I was intimidated and daunted at the thought of accepting the creative writing teacher role? No I don't. I have no idea. How blinkered was I?! Or perhaps how fearful was I of being outside my comfort zone, opening myself up to failure? But I got over myself, gave it a go, and for that I will always be grateful.
Alison Hitchcock is a writer and teacher. www.alisonhitchcock.co.uk Twitter @alihitchcock1