Suzanne studies art and crafts at Share.
When she first started at Share, she was very quiet and shy. With Share's help, she gradually came out of her shell and eventually went on to undertake a work placement at a local office.
She has since blossomed and went on to work as a volunteer at the Tara Arts Centre (we followed her interest in theatre and found her a placement) after which we found her a volunteer position at the Southbank Centre, loving the contact with the public, being part of a team, and making new friends. She went on to became a regular volunteer at the Centre, helping at a number of Southbank festivals.
Her supervisor during the Southbank Winter Festival said, in a testimonial, 'Suzanne spreads joy and kindness everywhere she roams.'
Suzanne's volunteering work at the Southbank Centre eventually led to paid employment in September 2014, when Suzanne was employed on a year's contract as a host to 'meet and greet' guests at the Royal Festival Hall, working four hours every weekend.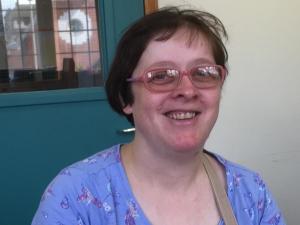 One year on, Suzanne has just been notified that she has been made a permanent member of staff! Talking about moving from volunteer to paid employee, Suzanne notes that 'If it wasn't for the voluntary work, they wouldn't have known how good I was.' And commenting on being given a permanant contract, Suzanne says, 'I can't get over it'. She goes on to say 'The job has given me confidence to meet people and make new friends.'
Apart from the arts, Suzanne loves to travel, and went to Paris earlier this year. Her next trip takes her to Portugal later in the year. She pays for all of these trips herself, often paying in installments, and says that 'If I didn't have this job, I would have struggled to pay for my trips.'
Suzanne manages her own money and, more recently, also manages her own medication. She currently lives in shared supported accommodation but, looking to the future, Suzanne is keen to get her own flat, with some support for cooking and cleaning. 'I'm fed up with one room', she says, adding 'I'd like more space to spread out.'