If you told me three years ago I would be helping an 18-year-old walk to Asda (Asda...me?) who had suffered a stroke and lost the use of her right arm with her grocery shopping I would have laughed in your face – who me? But I did. 
This shopping trip was a result of me applying to volunteer as a Baking Assistant helping to prepare lunches and assist Share's Head Chef, Kenny, with a six-week pilot baking course being held each Thursday for disabled adults. 
I had arrived a few weeks earlier in London from Melbourne, Australia, to participate in food styling and food writing courses at Leith's Food & Wine in West London and one evening I was browsing the noticeboard in the dining room at Leith's and saw an advertisement from Share looking for volunteers to help disabled adults to cook. My courses were scheduled for two nights per week, and as I was unable to work during this time (visa restrictions) so my initial thought was that it would be good to be able to pass on some of my knowledge to those less fortunate than myself. Previously I had volunteered at a cookery school in Ireland as an Assistant Tutor teaching adults from all over the world, so thought I had some relevant experience to undertake this role.
My first contact with Share was over the phone after which I arranged to meet with staff to discuss the details of the baking course. I do remember walking through the doors on that very first visit being nervous as I had never in my life encountered anybody who had a disability. Before I left Share I had agreed to, pending reference checks and a security clearance, to help Kenny to support Share students to learn the skills they needed to bake independently at home.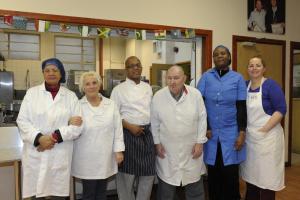 To say I was apprehensive on my very first day of volunteering was an understatement, but as the weeks passed and I got to know the students my anxiety eased. The course had already been designed but with Christmas around the corner I asked to change the order of the bakes so we could bake our Christmas Cake two weeks in advance to allow the flavours to mingle which meant we could decorate our cakes on our last day which gave the students a real sense of achievement and something to take home to their families. Being an Australian there was no way we could not make Lamingtons and I can still picture the students dipping the sponge into the chocolate sauce and it running everywhere – what a fabulous time we had that day!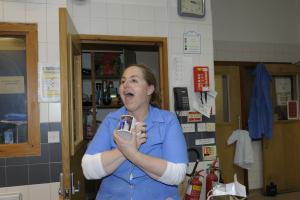 I use my Share mug for my morning tea EVERYDAY and feel very blessed to have met these loving and deserving people and to be so warmly welcomed into the Share Community family.  Now over three years later I can honestly say it has been the most rewarding experience of my life.
Tracey Elliot