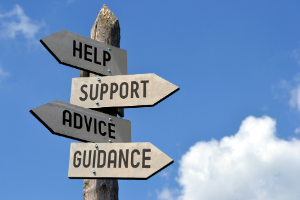 So much has changed since our last newsletter as everybody works hard to adapt to a new way of life. Our sites are closed for the time being and staff are working from home, apart from those maintaining plants at our garden, and our social enterprise operations are suspended. As always though, our priority is the wellbeing of our students, delivering learning and wellbeing programmes to enable them to make their own decisions and lead happier, healthier lives.
During the COVID-19 pandemic, however, everyone's lives are limited and changes to routine can be difficult to navigate. We're committed to supporting students and their families at home. We've been exploring video conferencing by running Zoom sessions and keeping in regular contact with students by phone. Our staff are busy creating wellbeing tools to help students deal with the current disruption and give daily structure. Tutors have also been creating worksheets and activities so that students continue their learning at home. These are emailed or sent as printed copies and are available on our website.
As well as resources to support student learning, the COVID-19 section on our website has lots of useful links signposting government guidelines, local help and support, NHS resources and advice from disability charities and organisations.
We've made space for fun activities too with links to virtual museum tours, theatre performances, art and puzzles as well as easy read recipes and exercise resources to help people stay healthy and well during lockdown.
Visit our COVID-19 resources website
---
Take part in our 'at home' art challenges
We've been running art challenges on our social media platforms using the hashtag #shareartathome. Each week we post a new challenge and ask people to share their work with us. Challenges are simple, easy to do, and are all about having fun and exploring creativity. It's no secret that art is good for your mental health, it's enjoyable, soothing, and helps you relax.
We've had some lovely responses which we'll be posting in a gallery on our website. You don't have to be on social media to take part as each week we update our webpage and you can send in photos of your artwork by email.
Click for more details and how to join in
---
Share your experiences with the National Autistic Society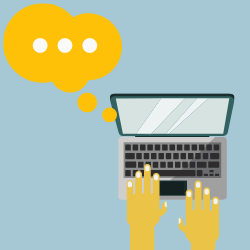 Lockdown means adapting to disruption and new routines which can be particularly difficult for people with autism and their families. The National Autistic Society want to hear real life experiences of autistic people during the coronavirus lockdown. They want to make sure that MPs and the public are made aware of the challenges autistic people and their families face so that they can understand the support that's needed.
If you wish to share your experiences please email stories@nas.org.uk with the subject, 'My lockdown experience'.
---
Garden packs for students at home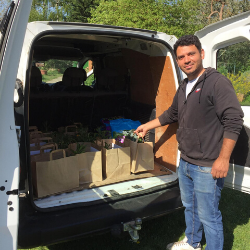 If students can't come to the garden, we'll take the garden to the students! Our horticulture team have been busy preparing and delivering educational gardening packs for students, whilst carefully observing social distancing protocols.
Inside, students have a spider plant to name and care for, which they'll return after lockdown explaining how they looked after it, wallflowers to plant in their gardens, and a mixture of seeds to sow and nurture. Gardening tasks are incredibly therapeutic and help everyone, regardless of age and disability. The packs will help our students connect with nature and improve their mental health by giving a sense of purpose and achievement.
We're looking forward to hearing how they get on.
---
Connecting with students through Zoom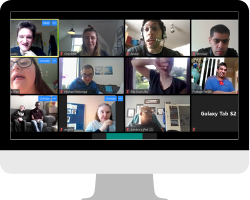 Despite our buildings being closed, it's so important for us to keep in close contact with our students. We've all been learning new and creative ways to teach and offer support and like so many others around the world we've embraced video conferencing. This is helping everybody enhance their digital knowledge and provides a valuable way for students to connect and engage with tutors and each other. They're able to maintain friendships and add much needed structure to the day. We're running pastoral and topic sessions and even live cooking! Click the link below to find out what people have to say about their experiences and see pictures of our sessions.
Click for pictures and feedback
---
Support for parents and carers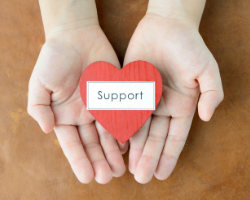 These are incredibly difficult times for many people and if you care for somebody with a learning disability you may face additional challenges.
We've created a dedicated section on our website for parents and carers which we hope is useful. Recently, Annie McDowall, Share's CEO, shared her 8 tips for staying resilient and staying well in a video for parents and carers of adults with learning disabilities. We hope these tips will add to your resources and help you stay healthy, both physically and mentally.
---
Diary dates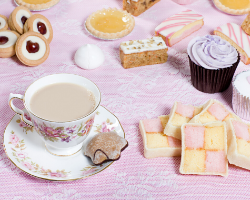 Saturday 2nd May, 3pm - Go Anywhere Do Anything Virtual Afternoon Tea
We're running our first ever online Go Anywhere Do Anything trip on Zoom! Participants are encouraged to bring a cuppa and a slice of cake or biscuits. Invitations will be emailed to Go Anywhere Do Anything members this week.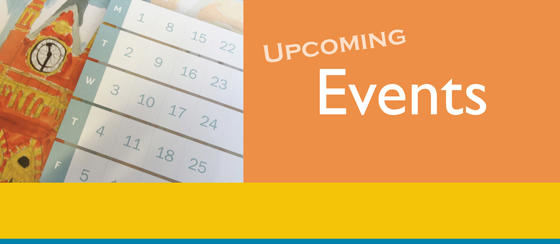 ---
About Share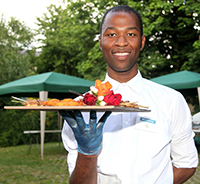 Share provides training and employment support for disabled adults, including those with learning disabilities, physical/sensory impairments, autism and mental health needs.
Our core services include: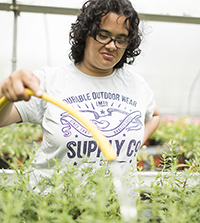 For further information, visit Share's website or email info@sharecommunity.org.uk.
If you would like to find out more about enrolling at Share or would like to arrange a visit, fill in our online enquiry form or email info@sharecommunity.org.uk.
Find out more about other ways to get involved with Share

You are receiving this email because you have had previous contact with Share Community, a registered charity based in Battersea that provides training and employment support for disabled adults. To find out more about Share, visit our website at www.sharecommunity.org.uk