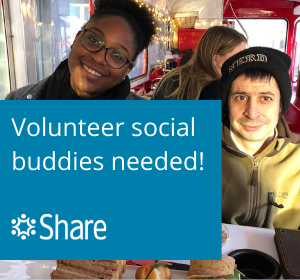 As restrictions ease lots of us are making plans to get back to doing the things we all enjoy. Many people with learning disabilities love to get out and have fun just like the rest of us, but often need extra support. Go Anywhere, Do Anything, our social inclusion project that's been running for seven years, needs volunteer social buddies to help people enjoy entertainment and leisure opportunities.
Over the past year social distancing restrictions meant we moved experiences online and we've hosted karaoke nights, watch parties and virtual museum tours among others. Although some events are still happening over Zoom, actual trips out have resumed now that the guidance has changed. Share is planning a range of exciting evening and weekend activities like theme park visits, attending sports events, and going bowling for people to let their hair down and enjoy everything life has to offer.
So if you fancy doing something amazing for your community whilst having a great time then we'd love to hear from you!
Photo taken pre-COVID
Find out more and get involved!
---
Visit Share at the Wandsworth Arts Fringe 2021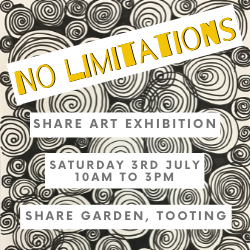 We're taking part in the Wandsworth Arts Fringe this year, an inclusive open access arts festival celebrating art in all its forms.
Art is a valuable means of self expression and personal development at Share. Our students are busy creating a range of eclectic and exciting pieces for our art exhibition called 'No Limitations' which takes place on Saturday 3rd July at the Share garden from 10am until 3pm.
Art works are personal, powerful pieces drawing on the emotional impact of the pandemic, allowing viewers a glimpse into the creative complexities of our students. A common theme is sustainability and the need to re-use everyday objects.
The art group have made a video to tell you all about it - do check it out!
---
Share maintains matrix Standard accreditation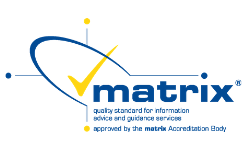 We're delighted to announce that we've successfully maintained our matrix Standard accreditation acknowledging our delivery of excellent information, advice, and guidance. Our recent review commended Share for how quickly we responded to the support needs of our beneficiaries and their families during the pandemic, our strong digital response, and our innovative approach to widen access and opportunities for people. The matrix Standard is designed to benchmark organisations against best practice in advice and support services. We're proud to continue our commitment to exceptional service and continuous improvement.
---
Celebrating nature for Mental Health Awareness Week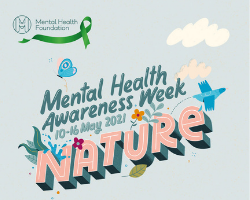 Hosted by the Mental Health Foundation, this year the theme for Mental Health Awareness Week was nature and how it helps boost positive mental health and reduce anxiety.
Earlier this month, we welcomed friends from South West London and St George's Mental Health Trust who visited us at the Share garden to film interviews with students and staff about what being in nature means to them.
---
Volunteers' Week, 1st to 7th June 2021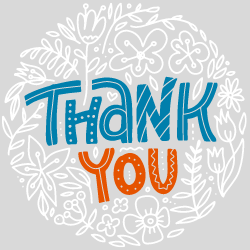 We simply couldn't do what we do without the continued support of our wonderful volunteers who help us in so many ways. They're at the heart of our social inclusion and befriending projects and they add value to our classes and activities on a daily basis.
Volunteers' Week is a chance to say a huge thank you to all our volunteers for the invaluable contribution they make to Share. To mark the week we'd like to share some recent volunteer stories, shining a spotlight on some of the incredible individuals who give up their time and passion to support our students.
---
Students volunteering at the Rookery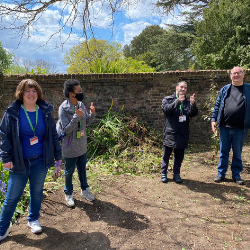 A core aim at Share is to help disabled people be more included in society, doing things that members of the community would be doing, in ordinary places that members of the community would frequent.
Thanks to the Streatham Common Co-operative we're supporting a team of Share students to volunteer at the Rookery gardens in Streatham, clearing weeds and carrying out general gardening tasks. Taking part in community projects helps give a sense of belonging and allows our students to connect with the community, helping them progress towards employment and independent living goals.
---
Support Share when you shop at the Co-op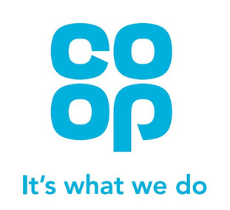 Don't forget you can still help Share by choosing us as your local cause to support when you shop at the Co-op. It's helping us deliver activities in the community, on-site, and remotely, getting people physically active and boosting mental health.
If you become a Co-op member, every time you shop not only will you help Share, you'll earn rewards for yourself.
---
Current vacancies at Share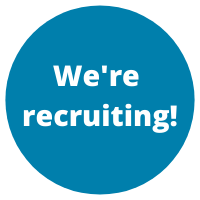 Executive assistant to the CEO
Permanent, part time
Community and Project Support Worker
Permanent, part time
Community Services Facilitator
Permanent, full time
---
You are receiving this email because you have had previous contact with Share Community, a registered charity based in SW London that provides training and support for disabled adults. To find out more about our services visit www.sharecommunity.org.uk.