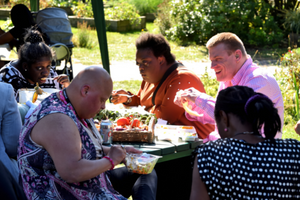 Earlier this month we were delighted to hold a very long overdue and much-needed student and staff party at the Share garden. Friends of Share will know we usually have a thoroughly marvellous annual summer bash open to all.
Due to COVID-19, we decided not to open the event to the public this year but Jodie, a student at Share, spoke to staff a few months ago about the possibility of a student and staff get-together.
Jodie and the rest of the team planned a fantastic day and as luck would have it, Mother Nature provided one of the sunniest September days in recent history. Everyone had a wonderful time enjoying the food, cakes, raffle, art activities, and dancing. Students helped on all the stalls and joined in on DJ duties. Thank you Jodie and the whole team who made the day such a success.
---
Always improving how we work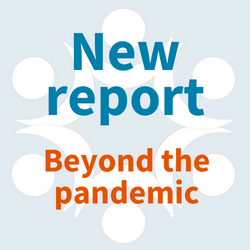 Share has evolved; we're using everything we've learnt over the past 18 months to focus our strategy moving forward. We believe that everybody has something to offer others and we work with respect, compassion and kindness. We're committed to providing high-quality individualised care and support and this is reflected in our continued drive to learn and grow. Read our newly published report explaining how we've adapted our services to emerge stronger from the pandemic.
---
New community-based course launches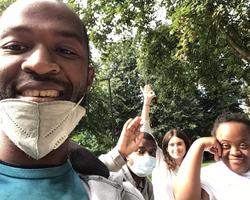 September saw the launch of a brand new course at Share. Based in the community, Get Out and About teaches our students the skills they need to independently use public services and amenities and get more involved in their local areas. This could be anything from knowing how to get a gym membership and visiting the gym, to joining the library, or getting involved in community volunteering.
Aimed at those who are already travelling independently, the course will help them do what they choose to do in their free time.
---
Grow your own - Share's projects collaborate to learn about healthy eating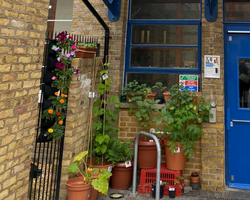 If you've visited our Clapham Junction site recently you'll have noticed the lovely greenery growing outside the main entrance. Our independent living skills group are growing a variety of herbs, beans, sunflowers, tomatoes, and other plants. The idea is to link up with our catering group, providing the herbs and vegetables to use in cooking. Students suggest a dish of the day and the catering team prepare it for everyone to enjoy. It's a great way for our project groups to collaborate, learning together about healthy eating and sustainability.
Find out more about our courses
---
The Share newspaper - by students, for students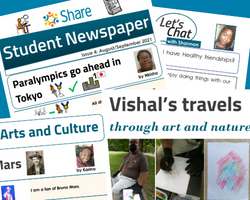 Regular newsletter readers will remember the Share newspaper that started in lockdown. It's written by students and for students and is now a popular established part of life at Share. It's a great way for students to develop their reading and writing skills whilst taking ownership of a project, giving a sense of pride and achievement.
The newspaper is published with support in an accessible, easy-read format with opinions, recipes, lifestyle tips, comments, and more. It gives our students an outlet to express themselves and show what they can achieve, allowing their voices to be heard. All students are welcome to submit their stories, and should speak to Shem or anyone on the Share staff team to get involved.
---
Parent and carer survey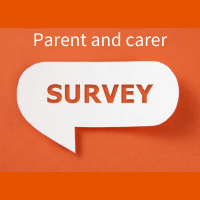 We're committed to providing the very best services to support all our students. So it's vital that we understand where we're getting it right and where we could improve. Every year we conduct a survey among parents and carers of people who come to Share to give us valuable feedback. They have unique insight into how effective our services are. This type of input helps us shape our future programmes as we navigate out of the pandemic. Thank you to everyone who has already done the survey, but if you haven't yet completed it please do so on the link below.
Complete the survey (parents/carers only)
---
Volunteering opportunities at Share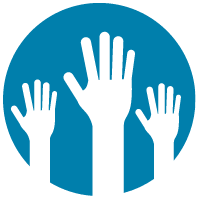 If you're passionate about supporting people with a learning disability then volunteering at Share could be just what you're looking for. It's not only a chance to do something rewarding, it's also a great way to learn new skills and make new friends. As well as befrienders and social buddies, we need people to volunteer on our various training and wellbeing programmes, including catering, community based classes, independent living and more.
---
Lambeth's Information, Advice and Support Service for young people
Lambeth Information, Advice and Support Service (IASS) provides free, impartial and confidential information about education, health and social care for children, young people, and their parents relating to special educational needs and disability. They can support and advise on a broad range of educational issues including Education, Health and Care Plans (EHCPs); SEN support children and young people in schools; and exclusions.
---
You are receiving this email because you have had previous contact with Share Community, a registered charity based in SW London that provides training and support for disabled adults. To find out more about our services visit www.sharecommunity.org.uk.