Welcome to the August issue of Share News!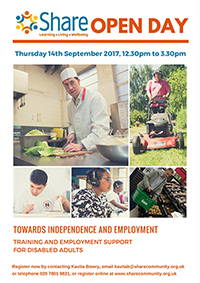 With the traditional summer break nearly over for many of us and thoughts already turning to 'Back to School', we are looking ahead to Share's Open Day on Thursday 14th September 2017, from 12.30pm to 3.30pm, starting with lunch. 
If you are a professional, parent or carer who supports a disabled adult who is looking for his or her next step in education and employment, then this Open Day is for you.
The day will focus on our Independent Living Skills programme. You'll hear about what's changing and why, and how we are making all our training more practical and community-based.
The day is also a chance to have a look around all of our facilities, including our Immersive Learning Centre, and chat with staff and current students about life at Share, and how we can support disabled adults towards independence and employment.
Join us for an informative day to find out how we can help you or the person you support. You can register online, or email marcomms@sharecommunity.org.uk or telephone 020 7801 9821 to book your place.
---
'Meet the maker' at Share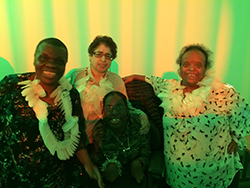 Share students recently had the opportunity to work with a professional jewellery maker as part of their art and crafts work at Share. Our guys spent time working with Marcin Giebultowski, learning new techniques, using new tools and getting Marcin to cast an expert eye over their creations.
The day finished with an impromptu fashion show with our students strutting their stuff and showing off their jewellery.
This was the first of what we hope will be regular 'Meet the maker' sessions, designed to inspire our students in the world of work.
So if you have a special skill you'd like to share with Share students, get in touch! Contact Keesha Sinclair, Share's Wellbeing Manager, via email keeshas@sharecommunity.org.uk to find out how you can get involved.
---
Plants for sale in the Share Garden
The Share Garden continues to bloom! And we've got some great plants for sale to bring some some colour to your green space. There are some fantastic bargains to be had. So come and visit the Share Garden where our gardening team will be only too happy to help.
The team is also busy planning their winter and spring bedding planting, so get in touch if you'd like a little something special or different – we love a little challenge!
For more information, email gardening@sharecommunity.org.uk
or telephone 020 7924 2949.
---
New team member for Share Go Anywhere, Do Anything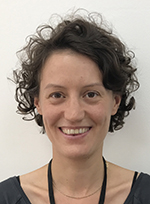 Having secured funding for Share's Go Anywhere, Do Anything project for another three years, we are delighted to welcome Elise Sorensen to the staff team at Share as Project Officer to support our Go Anywhere, Do Anything team.
This means we can support our students to go to more places and do even more! Exciting times ahead...so watch this space...
---
Stakeholder surveys – help us to shape the future of Share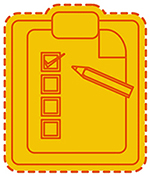 At Share, we are always looking for ways to improve the services we offer for our students to make sure their time at Share is happy and fulfilling. Our aim is to give our students the best opportunities to enable them to live the lives they choose.
Each year, we solicit the opinions of all stakeholders at Share, including students, parents/carers, volunteers, professionals and staff to ensure we continue to develop what we do at Share and provide the best services for our students.
Our surveys for professionals and parents/carers for 2017 have just been launched, so we'd like to invite you to take part and help us to shape the future of Share. Your views are very important to us, so please answer these questions openly and honestly. Your answers will help us to develop our services over the coming year, as well as make any improvements that might be needed. Each survey should take 10 to 15 minutes to complete.
Parents/carers. https://www.surveymonkey.com/r/sharesurvey1 
Professionals. https://www.surveymonkey.com/r/sharesurvey2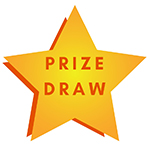 As a thank you for completing these surveys, we would like to enter you into a prize draw to win a hamper of goodies – more details about how to enter can be found at the end of each survey.
If you would prefer to complete either of these surveys by telephone, please call Leanne Wood on 020 7801 9825. 
The closing date for these surveys is 15th September 2017.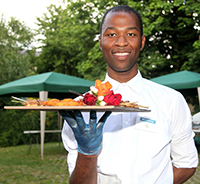 Share provides training and employment support for disabled adults, including those with learning disabilities, physical/sensory impairments, autism and mental health needs.
Our core services include: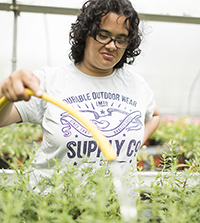 For further information, visit Share's website, email 
info@sharecommunity.org.uk
 or telephone 020 7924 2949.
Find out more about other ways to get involved with Share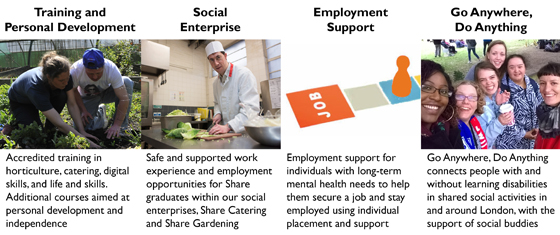 ---
Diary dates for 2017
Thursday 14 September 2017 Share Open Day
Tuesday 7 November 2017 Share Annual Awards
More information about all our events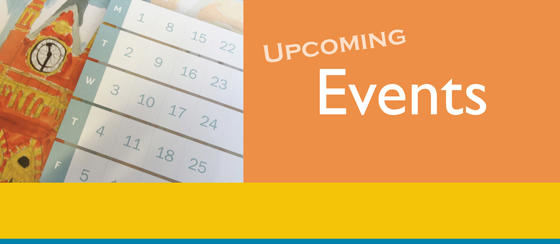 ---
You are receiving this email because you have had previous contact with Share Community, a registered charity based in Battersea that provides training and employment support for disabled adults. To find out more about Share, visit our website at www.sharecommunity.org.uk