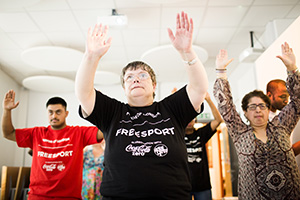 Share held the first of 20 FreeSport sessions on 19th July 2016 following receipt of £1500 as part of the Mayor of London's FreeSport small grant scheme which is run in association with Coca-Cola Zero ParkLives.
This funding will help to provide 20 sessions of yoga and dance over 10 weeks from July to October for Share students as part of Share's health and wellbeing programme, which aims to promote the benefits of healthy eating and exercise for all.

---
Share students take to the stage with London Symphony Orchestra (LSO)
Throughout the year, once a month, a number of Share students take part in LSO Create for people with learning disabilities where they go to create music with professional musicians.
It was therefore a great pleasure to see three of our students – Vishal, Amal and Rehan –take to the stage on 1st July 2016 to perform in concert with muscians from the LSO and the Guildhall School.
The brief was to create three new pieces of music to complement the performance of three movements from Britten's Cello Suite No 1.

---
Could this be Beyoncé's Number 1 fan?
Well, there was great excitement at Share when Jordan got his ticket for the Beyoncé concert as part of Share's Go Anywhere, Do Anything programme. Lots of singing and dancing was heard and seen around the building in anticipation of the big night...and no wonder!
As Jordan headed out to the concert with Social Buddy, Karen, we found out this was to be Jordan's first ever live concert, and as Beyoncé's Number 1 fan, who better to see than the queen of song and dance? So how was it? In Jordan's words: 'really awesome', and he said he spent the whole evening singing along to all the songs. Karen commented afterwards that seeing Beyoncé with her Number 1 fan was a very special way to celebrate her 10th trip volunteering with Share Go Anywhere, Do Anything.
Jordan is a keen musician and singer himself, having first learned to play the piano a few years back, and he is currently undertaking guitar and singing lessons each week. Speaking about the future, Jordan says he'd like to do something in music in life, and says stars such as Beyoncé inspire him to do something good in his life.

---
Direct Payments Information Morning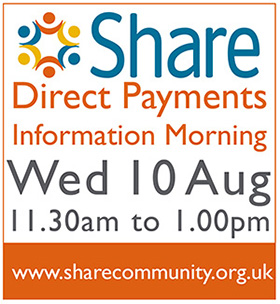 Share is holding a Direct Payments Information Morning at Share on Wednesday 10th August 2016 from 11.30pm to 1.00pm.
The event is for parents/carers and students and aims to answer common questions about what direct payments should be used for and how the process works, including the new pre-payment cards.
If you would like to attend the event, please RSVP by emailing Mikayla Mighton mikaylam@sharecommunity.org.uk or telephone 020 7801 9813.
---
Share Open Day – Date for Your Diary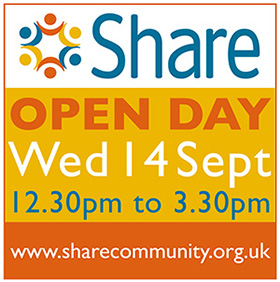 Share will be holding an Open Day on Wednesday 14th September 2016 from 12.30pm to 3.30pm.
The event is open to professionals working with disabled adults, as well as carers and potential students looking to take their next step, and is an opportunity for everyone to find out more about the services Share provides.
Find out more and register for the event online or RSVP by emailing marcomms@sharecommunity.org.uk or telephone 020 7801 9821.