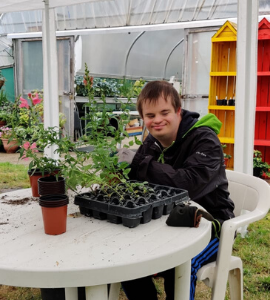 We're thrilled to welcome back some of our students as part of a phased reopening as lockdown restrictions ease. A few students are accessing our horticulture site in Tooting. Our garden is a tranquil restorative space and we know students will benefit hugely by coming back to the site for some hands-on learning and much needed social contact. A small number of catering students are also attending our main site in Clapham Junction, enhancing their kitchen skills whilst supporting our COVID-19 meals service.
For many, a sense of routine and purpose helps reduce anxiety and during such turbulent times, connecting with others is a powerful way to improve mental wellbeing and feel more positive.
We've carried out thorough risk assessments before moving ahead with this. We've also implemented strict hygiene standards and guidelines for those involved. Full details are available on our phased reopening statement on our website.
---
Fundraise for Share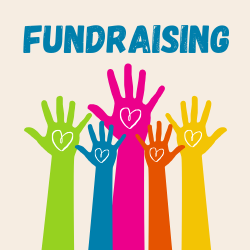 We'd like to say a huge thank you to everyone who has supported our COVID-19 appeal so far. We're so grateful for the many donations that are helping us support our students and their families. As lockdown restrictions ease for many, other people still face challenges and need more support. We've cooked over 1400 healthy meals for households in need through our meals programme run with Generate and we continue to run this with some of our catering students now directly involved.
Life after COVID-19 will be different. We've all had to adapt to change and we're using this as an opportunity to review how we deliver our services. Like many charities, COVID-19 has affected our income and we need to fundraise more than ever. As well as donations we'd love people to fundraise for us. We've put together a pack to inspire people to join in and help make a difference to the lives of disabled people.
---
Cooking with Kenny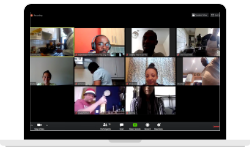 When we started connecting through Zoom early on in lockdown we had no idea that the virtual cook-along sessions on Friday afternoon would become such a hit. Feedback has been excellent and we've been asked to carry on even after lockdown ends! Students are sent the recipes in advance to prepare and shop for the right ingredients.
Confidence shines through as students relax and get into the flow in their own environments. They really engage with the tasks and gain a huge amount of satisfaction preparing the meal that their household will eat that night. It's a great way to enjoy some laughs, learning and good food and we love seeing the smiles on screen.
---
Making the most of YouTube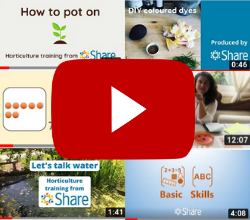 The lockdown experience has prompted innovation for many organisations. At Share, it's been challenging but it's also given us opportunities to explore creative ways of using technology for teaching and learning.
Video has proved an effective way to engage and enhance learning at home. We've developed our YouTube channel, a popular platform with many students. Tutors have created accessible videos to suit a range of learning styles including clips with practical demonstrations of a particular task, 'how to' picture guides with simple subtitles, and videos explaining concepts using basic animation and voiceover.
We've created playlists by topic on our YouTube channel to help categorise our videos so you can easily find what you want. All videos are available on our website but if you haven't already, subscribe to our YouTube channel to see the full range.
---
Art packs available for students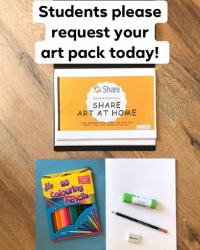 We've often talked about the benefits of art on mental health and wellbeing. During recent weeks we've run various art challenges to inspire people at home to explore their creativity and in the process restore some calm and happiness at a time of uncertainty.
Responses have formed a wonderful artistic diary. Most of our challenges and guides have been about making art using everyday objects you have around the house, with a focus on mindfulness. To support art at home, Diana our art tutor has put together art packs that are delivered to students. They're available by emailing info@sharecommunity.org.uk.
View our gallery of student artwork
---
Volunteers needed at Share garden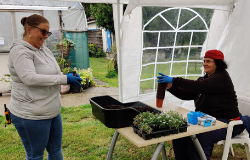 Spending so much time in lockdown has led to low mental health and increased isolation for many of our students. We're offering respite through our garden but we need volunteers to support our sessions.
Visiting the garden means students can partake in therapeutic gardening and get some exercise and much needed social contact. If you can help on Mondays, Wednesdays or Thursdays from 10am - 4pm working in a beautiful outdoor setting at our Tooting site, please email Leanne on leannew@sharecommunity.org.uk for more details.
---
Diary dates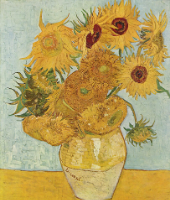 Saturday 4th July, 1pm - Virtual Tour Van Gogh Museum
Go Anywhere Do Anything has gone virtual! Join us to explore Van Gogh's famous paintings and drawings in this huge collection at the Amsterdam museum. Invitations have been emailed to Go Anywhere Do Anything members, or contact info@sharecommunity.org.uk for more details.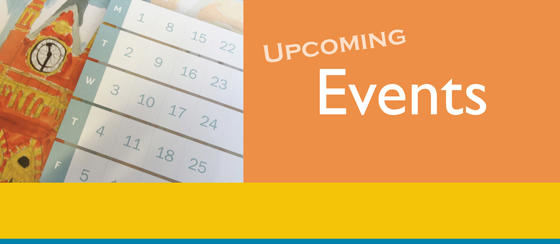 ---
About Share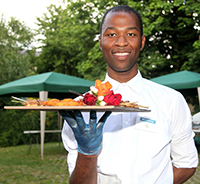 Share provides training and employment support for disabled adults, including those with learning disabilities, physical/sensory impairments, autism and mental health needs.
Our core services include: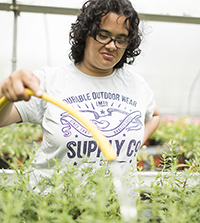 For further information, visit Share's website or email info@sharecommunity.org.uk.
If you would like to find out more about enrolling at Share or would like to arrange a visit, fill in our online enquiry form or email info@sharecommunity.org.uk.
Find out more about other ways to get involved with Share

You are receiving this email because you have had previous contact with Share Community, a registered charity based in Battersea that provides training and employment support for disabled adults. To find out more about Share, visit our website at www.sharecommunity.org.uk