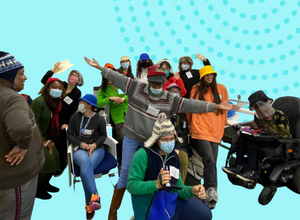 We're thrilled to be collaborating with the Royal College of Art to produce a unique millinery fashion show as part of this year's Wandsworth Arts Fringe.
Students on our art and wellbeing programme are working with alumni and designers from the Royal College of Art's MA Fashion course. We kicked off in February with the first of a series of workshops exploring hats, sustainability, ableism, and fashion.
The group will continue weekly workshops using a variety of techniques, materials and approaches to produce a range of hats and bespoke headwear. Then they'll take to the catwalk for a fabulous fashion show in June to model their designs. Watch this space!
---
Let's get moving! Funding helps Share students get fit and healthy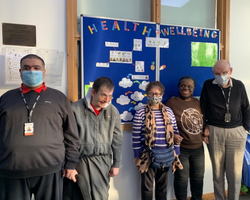 Thanks to funding from an NHS Wandsworth Community Grant, we've bought pedometers for our students to run a year-long step challenge. They've reported doing more exercise overall and everyone gets really excited for our weekly steps competition on Thursdays.
We've also appointed some students as health champions to support their peers with the step challenges, spread positive health messages, and help them make healthier choices in general. Part of this is the creation of a health and wellbeing noticeboard at our main building, full of useful easy-read information like how to cut down on cholesterol, look after your teeth, and eat more healthily. Students have also created articles for our in-house student newspaper to spread the word to the entire student cohort.
---
Share improves volunteer training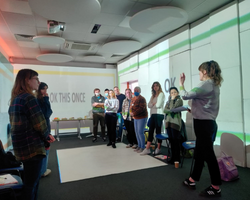 We've overhauled our training and induction programme to make sure we provide consistent comprehensive support for our wonderful volunteers. We recently delivered the first of our new group training sessions. We used our immersive learning space to create virtual environments and tasks to help people understand communication challenges and needs.
We aim to make sure everyone feels confident when they start their volunteering journey with us. As well as explaining our values and what we do, we explain what a learning disability is and how it may affect the way people communicate. We talk about autism awareness, safeguarding, and volunteer boundaries. People found talking about communication particularly helpful. 'Clear, fun, and friendly' was how one volunteer summed up the session.
Find out more about volunteering with us
---
Impressive new djembe drum for Share's music programme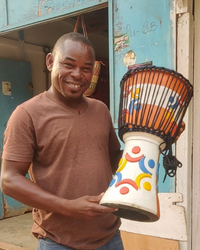 Karen, our Head of Wellbeing, recently went on a trip to Ghana where her friend David makes djembe drums. Karen told him all about Share and the work we do and he very kindly created a beautiful bespoke Share drum for us!
We're so grateful for this generous gift and students are really enjoying playing the drum in music class. The djembe is one of West Africa's best known instruments. It's a rope-tuned skin-covered drum that is shaped like a goblet and played with bare hands. It's extremely versatile as it can produce a wide variety of sounds, and we're very lucky to have this wonderful addition to our collection of musical instruments.
Find out more about music at Share
---
Healthy living cooking event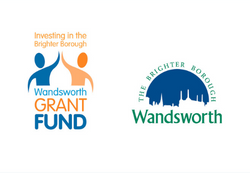 Thanks to support from the Wandsworth Grant Fund, we're partnering with Healthy Living Platform to run a cooking event on Saturday 12th March. Six students and their parents will come to our professional grade kitchen and prepare and cook a nutritious, yet easy meal together. Students will learn practical skills, food hygiene principles, and portion control. This is also a fun social event, where people can enjoy sitting down and eating the meal they prepared together with a sense of accomplishment and pride. We hope that students will then be encouraged to cook the recipes back at home. It's so lovely to be able to hold in-person events again and we look forward to more in the future.
---
Vacancies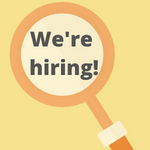 We're growing! We have some exciting positions available at Share. If you're interested in joining our friendly committed team and helping people with learning disabilities to live more independently, then we'd love to hear from you. If there's nothing suitable for you but you know of someone else who might be interested please do spread the word and encourage them to get in touch.
Employment Specialist
permanent, full-time - closes 9th March
Senior gardener
permanent, full-time - closes 10th March
HR and Office Manager
permanent, full-time - closes 15th March
Chef Trainer
permanent, full-time - closes 16th March

View all vacancies
---
Volunteer opportunities
We've got a wide range of opportunities to volunteer at Share and help make a difference.
If you can spare a few hours a week as a befriender, social buddy, volunteer support worker, or just to help out at one of our centres, please get in touch on 020 7924 2949 or hradmin@sharecommunity.org.uk.
---
Connect with us on social media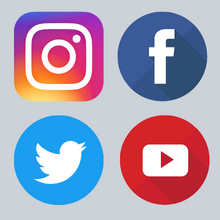 Did you know Share has active Twitter, Facebook and Instagram accounts? We also share our videos on YouTube.
Join us on your favourite networks and be part of our online community.
Twitter * Facebook * Instagram * YouTube
---
You are receiving this email because you have had previous contact with Share Community, a registered charity based in SW London that provides training and support for disabled adults. To find out more about our services visit www.sharecommunity.org.uk.