Share's catering course is suitable for students who would like to gain a recognised qualification in catering as well as those who simply want to become more self-sufficient.
As part of the course, students are taught how to prepare simple dishes while learning key skills such as:
Basics of preparing and cooking food Knife skills
Food hygiene
Personal hygiene
Healthy eating
Kitchen cleanliness
Share's catering kitchen is a 5-star registered centre for CIEH Level 1 training.
Qualification
Chartered Institute of Environmental Health (CIEH) Level 1 Certificate in Food Safety in Catering
Personal development and employment opportunities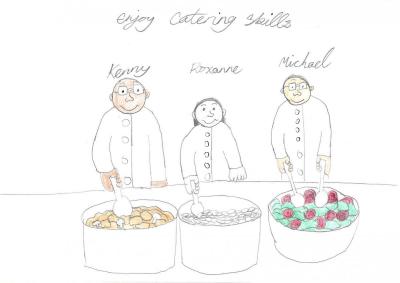 Students realise the importance of working as a team and listening to instructions. They enjoy the responsibility of preparing and serving lunch for others, and cleaning up the kitchen afterwards.
Gaining the CIEH Level 1 Certificate opens up an array of employment opportunities for those wanting to find work, both externally and in-house as part of Share Catering, Share's catering social enterprise.